How to Make Macrame Feathers
How To Make Macrame Feathers- easy-to-follow tutorial shows you how to make decorative feathers out of macrame. Video tutorial included!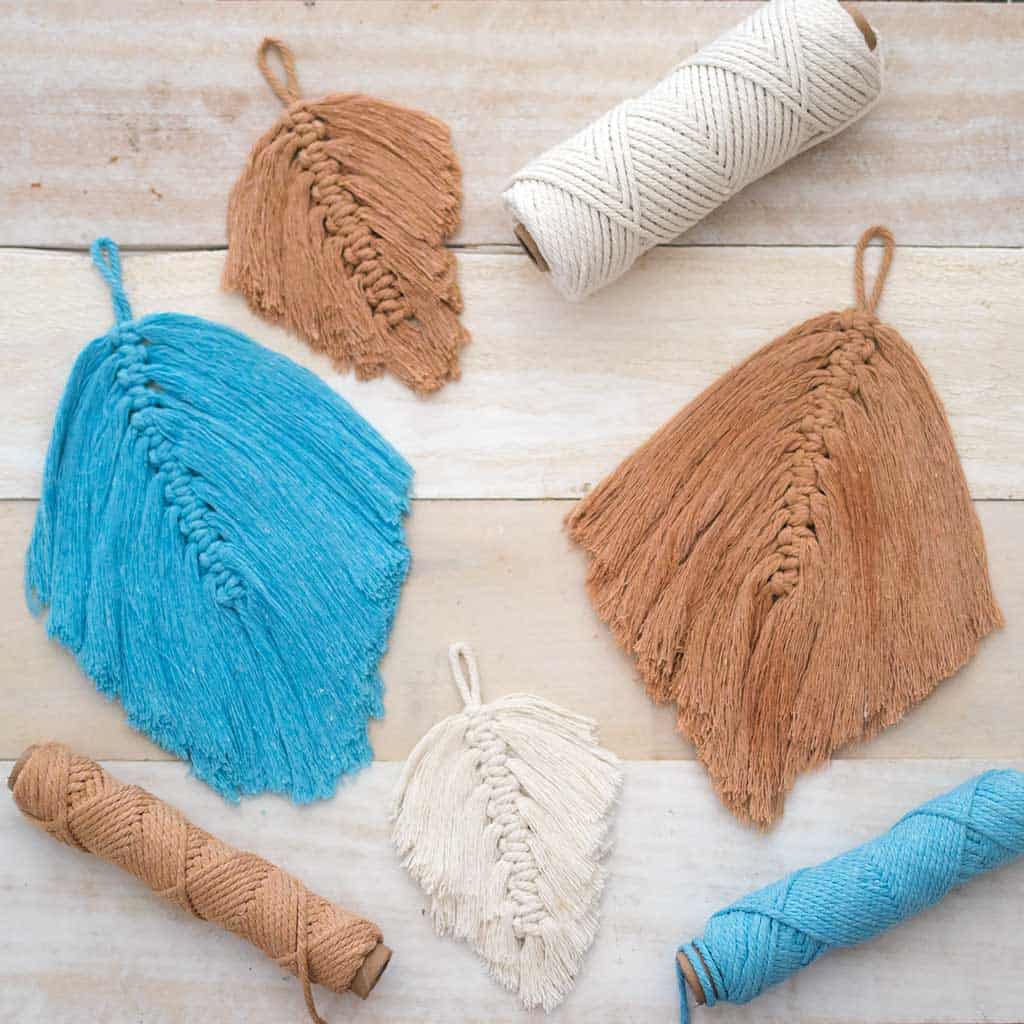 What can I use Macrame Feathers for?
Some of the ways Macramé feathers can de used is as gift toppers, Christmas ornaments, or they can be hung as a nursery mobile or a branch as a macrame wall hanging or other home decor.
Keep in touch! For more inspiration, tutorials, and free knitting patterns, sign up for our weekly newsletter:
Supplies needed:
(As an Amazon Associate, I earn from qualifying purchases.)
3mm Macrame cord
Sharp scissors
Ruler
Fine tooth comb or wire brush
Stiffening spray (fabric stiffener) You can also use spray starch.
How to Make Macrame Feathers
Cut the cord into the following lengths:
For a Large Feather (approximately inches 9 long): 1 – 20 inch piece, 10 – 12 inch pieces, 10 – 10 inch pieces, 10 – 8 inch pieces
For a Small Feathers (approximately 6 inches long) 1- 12 inch piece, 6 – 6 inch pieces, 6 – 4 1/2 inch pieces, 6 – 3 1/2 inch pieces
Fold the longest piece in half. This will be the spine of the feather that all the other cords get knotted onto. You're going to start with the longest cords and work down to the shortest.
Take the 12 inch cord (if making the large feather, or the 6 inch cord if making the small) and fold it over. Place underneath the spine, with the loop facing to the left. Fold a second 12 inch (or 6 inch cord for the smaller feather) cord over and lay it onto of the spine. Insert the ends of the first cord through the loop. Insert the ends of the top loop through the loop underneath the spine.
Pull on both sides to tighten the knot.
This time you're going to alternate the direction of the loop. or the first knot, it was on the left side, now it will be on the right side.
Repeat the steps to make a second knot.
Repeat the knotting process until all the long cords have been used. Then, move onto the middle length and finally, the shortest.
Once you are finished knotting, gently brush out the strands. Place one hand on the spine while you brush so the cords don't pull out.
This is what the feather should look like when you are finished brushing.
Trim into a feather shape.
Spray with stiffening spray and let dry.
Looking for more Macrame Projects like these DIY Macrame Feathers?
How to Make a Macrame Yoga Mat Strap
How to Make 3 Easy Macrame Knots
I love seeing your finished projects! If you enjoyed making this post How to Make Macrame Feathers, or any of my other easy craft projects, I'd love to see yours on Instagram, just tag me @ginamicheleblog. Happy crafting!