Delicious Vegan Rainbow Pizza
Delicious Vegan Rainbow Pizza- tastes as good as it looks! Top this vegan pizza with your favorite rainbow of colorful veggies for the ultimate slice!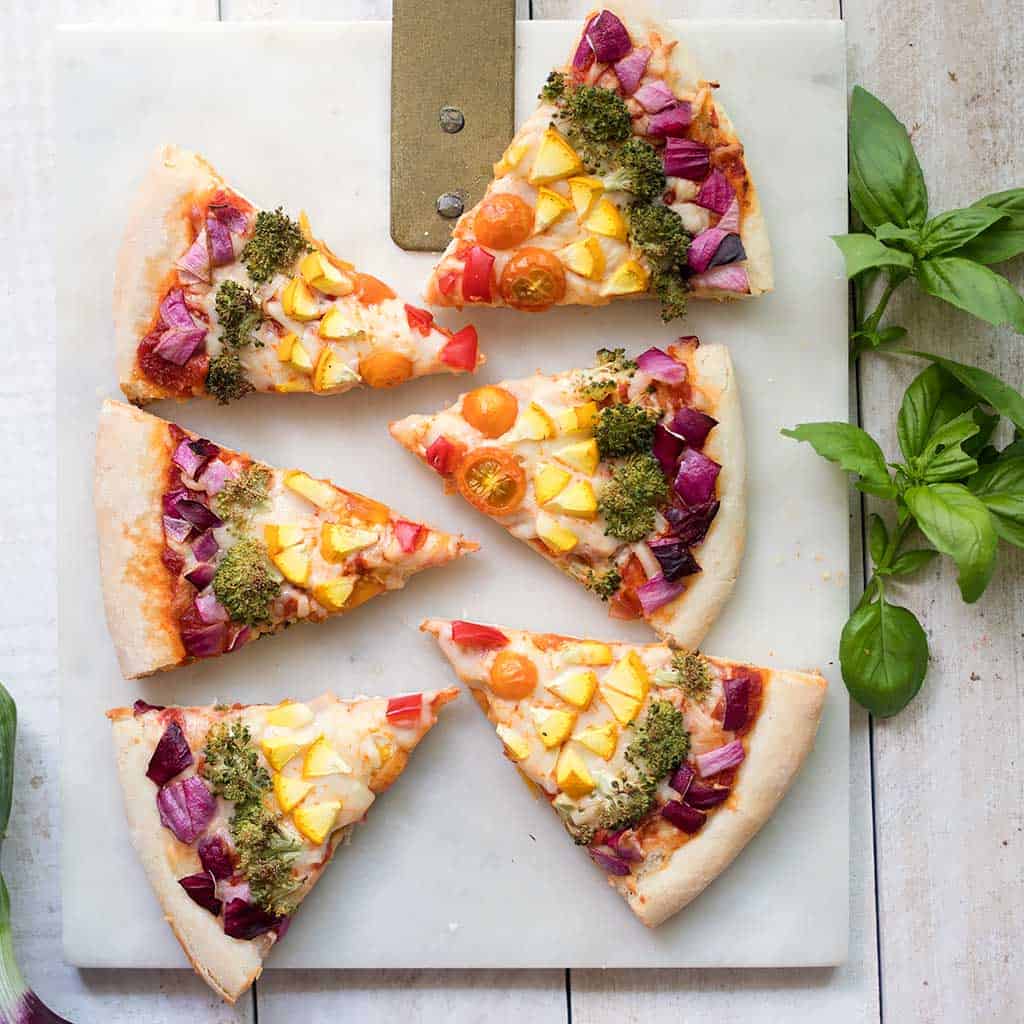 Pizza is one of my favorites and I thought I was going to have to give it up when I went vegan. I tried several frozen vegan pizzas, but I found them disappointing. They were always way too salty and there were never any good toppings.
Making pizza from scratch may seem intimidating, but it's actually quite simple!
KEEP IN TOUCH! FOR MORE INSPIRATION, PROJECTS, AND FREE KNITTING PATTERNS, SIGN UP FOR OUR WEEKLY NEWSLETTER:
Delicious Vegan Rainbow Pizza
This fully customizable and family-friendly pizza is sure to be a hit! Top with your favorite veggies and vegan cheese.
This recipe starts with my Easiest Vegan Pizza Dough. It contains 6 ingredients and it's so easy to make! I always keep a ball ready in the refrigerator. It also can be frozen for up to 2 months.
Spread on the pizza sauce stopping approximately 1/2 inch before the edge of the crust. Sprinkle the vegan mozzarella cheese on top.
Add your favorite rainbow veggies. I used red onion, broccoli florets, yellow squash, orange cherry tomatoes, and red bell pepper. Some other alternative veggies are- eggplant, corn, zucchini, orange bell peppers, mushrooms, olives, and/or sundried tomatoes.
Note- when you cut the veggies, make sure they are a similar size/thickness. This will ensure that they cook evenly.
To cook your pizza in the oven:
Preheat the oven to 450°F for at least 30 minutes. Dust the surface of the pizza stone, pizza pan or thick baking sheet with flour or cornmeal to prevent the dough from sticking. Transfer the pizza to the cooking surface using a pizza peel. Bake until the crust is golden brown approximately 10-15 minutes.
To cook your pizza on the grill:
Heat the grill. You want it to be at least 500 degrees Fahrenheit. Cook the pizza for 5-8 minutes. It's important to keep an eye on it because it can burn quickly. Grill until the crust is golden brown.
Looking for more Easy Vegan Recipes?
How to Make No-Knead Bread in the Instant Pot
I love seeing your finished projects! If you enjoyed making this Delicious Vegan Rainbow Pizza, or any of my other easy plant-based recipes, I'd love to see yours on Instagram, just tag me @ginamicheleblog. Happy cooking!