Easy Baby Sweater Knitting Pattern
Easy Baby Sweater Knitting Pattern- a beginner-friendly project for a classic baby sweater!

If you're looking for a fast and easy knitting pattern for a baby sweater, look no further! This sweater is knit using Stockinette Stitch (knit one side, purl the other). The shaping is very minimal. This baby sweater pattern is ideal for beginner knitters and it makes a great gift!
I'm a big fan of Lion Brand yarns and I use them frequently for my knitting patterns. I used Lion Brand's Touch of Alpaca for this pattern. Alpaca is similar to sheep's wool but warmer, softer, and hypoallergenic. Touch of Alpaca comes in a bunch of modern neutrals & jewel-tone colors. It's easy to work with and the weight is ideal for spring temperatures!
For more inspirations, projects, and free knitting patterns sign up for our weekly newsletter
The ad-free, printable version of this pattern can be purchased for a small fee at my pattern store, Shop Gina Michele. Please click on the image below to purchase the PDF.
Easy Baby Sweater Knitting Pattern
Needles: US size 7 single point knitting needles, US size 7 circular, 16 inch
Yarn: Lion Brand Touch of Alpaca in Blue worsted weight yarn (2 skeins)
Size 12-18 months
Gauge: 2 inches = 7 sts in stockinette stitch
Back:
Cast on 49 sts.
Work in Stockinette stitch (Garter stitch on one side, purl stitch on the other) piece measures 12 inches from beginning, ending with a wrong side row. Bind off.
Front:
Work the same as for Back until piece measures 10 inches from beginning, ending with a wrong side row.
Shape neck:
Next Row (Right Side): K16, slip next 17 sts to stitch holder for neck, join second ball of yarn and k16.
Working both sides at same time with separate balls of yarn, decrease 1 st at each neck edge every other row 3 times – 13
sts each side.
Work until the Front measures same length as back to shoulder. Bind off.
Sleeves:
Cast on 30 sts.
Work in St st for 2 inches, end with wrong side row.
Increase 1 st each side every 4th row 4 times – 38 sts.
Work even until piece measures 8 inches from beginning, ending with a wrong side row.
Bind off.
Neckband:
With right side facing and smaller circular needle, join yarn at right shoulder and pick up and knit 23 sts across Back neck, 10 sts down left front neck edge, 17 sts from Front neck stitch holder and 10 sts up right neck edge – 60 sts.
Join to work in the round, place marker for beginning of round.
Knit until Neckband measures 2 1/2 inches. Bind off.
Measure and mark 4½ down from shoulders on Front and Back. Sew top of Sleeves between markers.
Sew side and Sleeve seams. Weave in ends.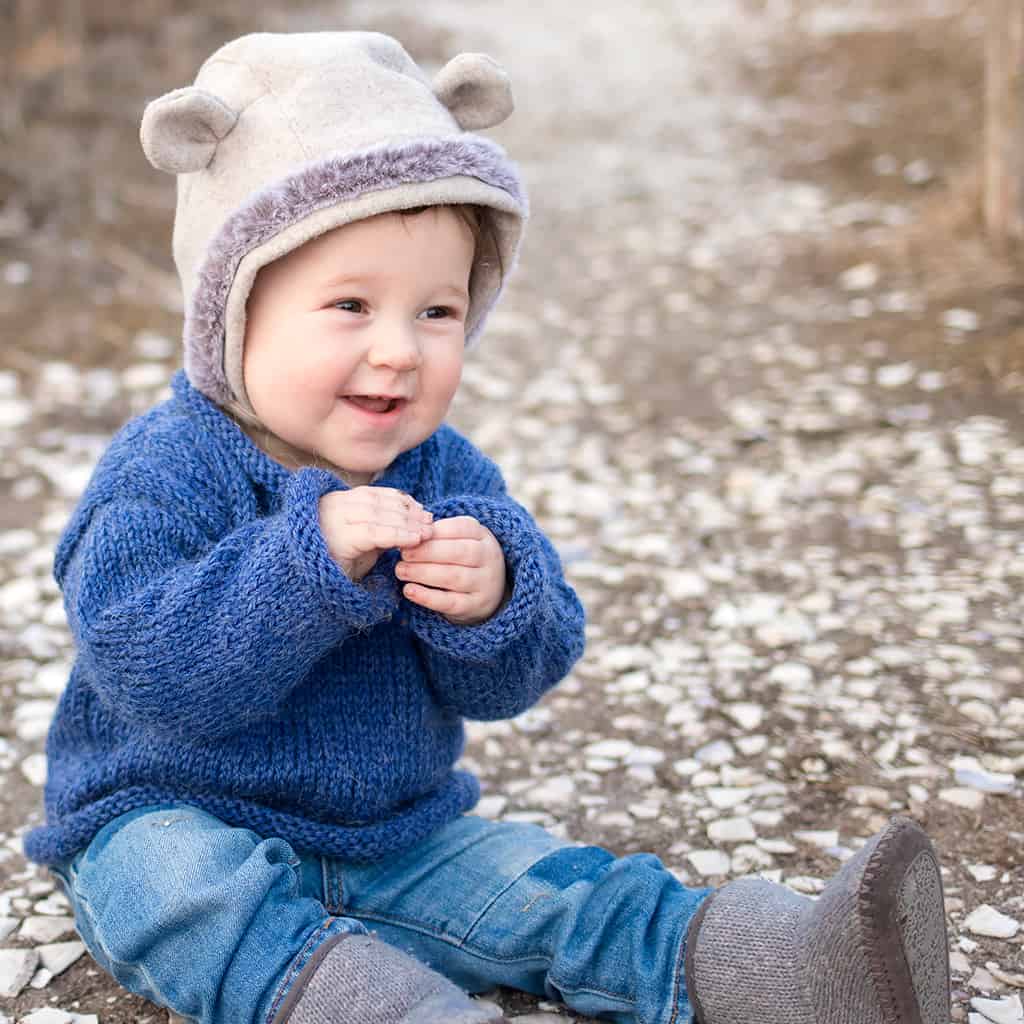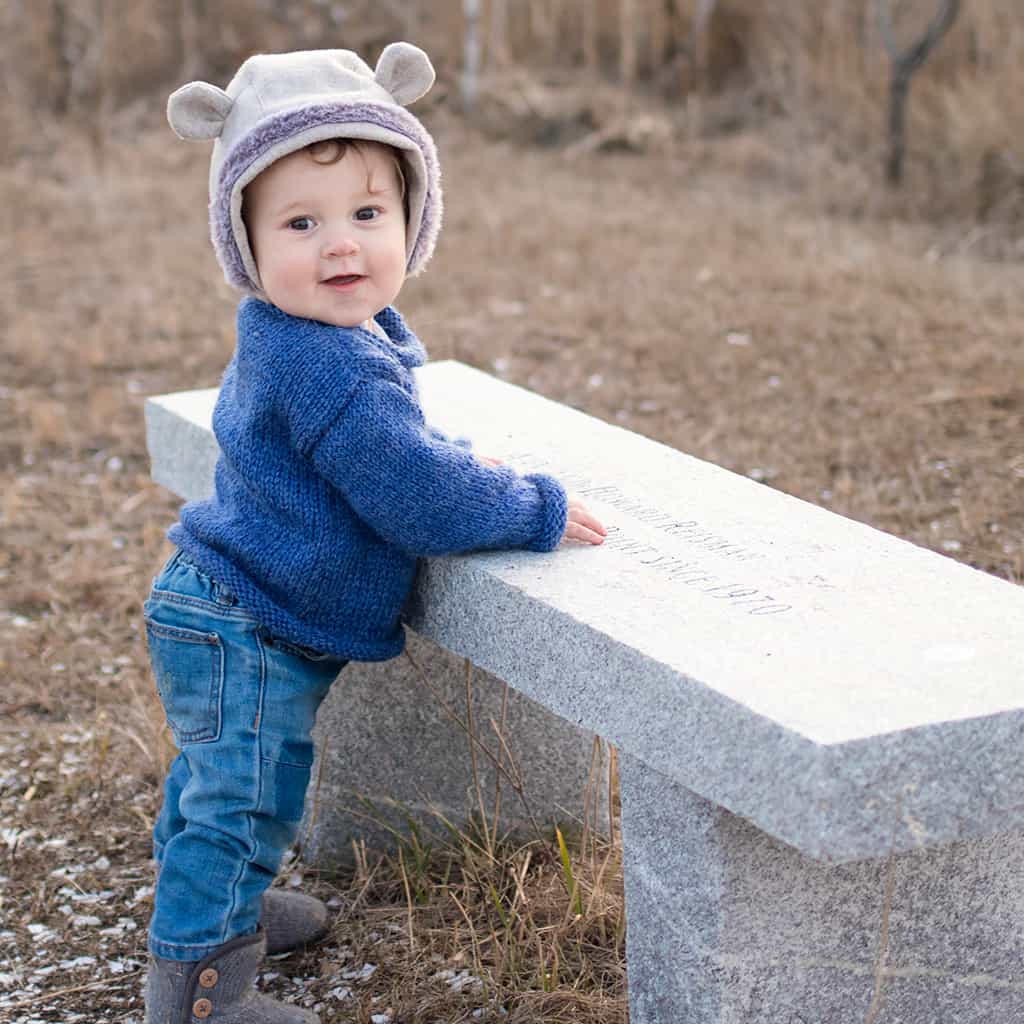 Looking for more Free Knitting Patterns?
Easiest Baby Booties Knitting Pattern
Easy Bunny Bonnet Knitting Pattern
I love seeing your finished projects! If you enjoyed making this Easy Baby Sweater Knitting Pattern, I'd love to see yours on Instagram, just tag me @ginamicheleblog. Happy knitting!