Easiest Large Pumpkin Knitting Pattern
Easiest Large Pumpkin Knitting Pattern- a beginner-friendly pattern that makes the cutest fall decor!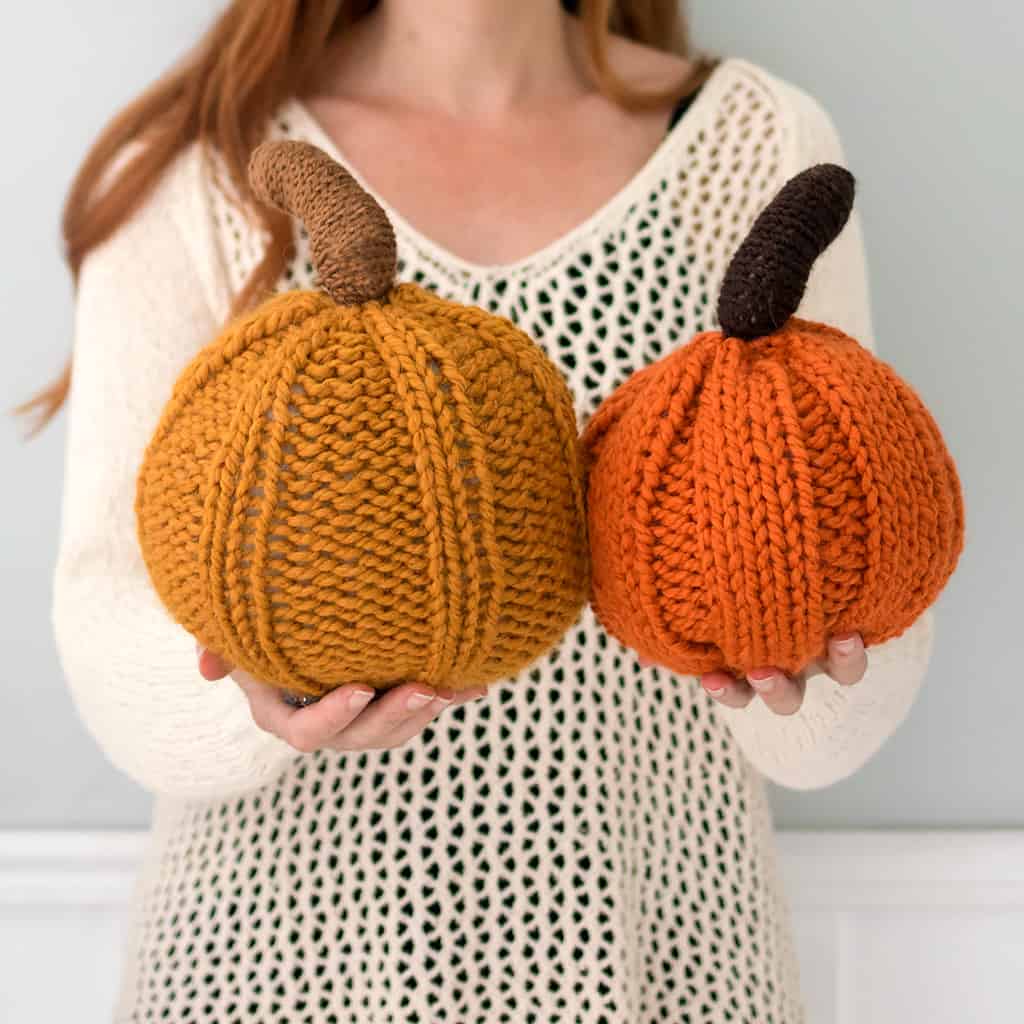 Pumpkins are a must-have for fall decorating. Real pumpkins rot and can be expensive and the foam craft pumpkins can look really fake. So, what's the alternative? Knit pumpkins!
This pumpkin knitting pattern is ideal for beginners. I included instructions for both circular and single-point needles. These are a quick knit and they're fun to make. Best of all, you can decorate with them year after year!
For this knitting pattern, I used Lion Brand Wool-Ease Thick & Quick yarn. This is my favorite super bulky yarn to work with. It's easy to work with, it's inexpensive and it comes in a huge array of colors. The bulky texture is ideal for home decor items and anything plush.
Would you rather knit a little pumpkin? Scrap Yarn Pumpkin Knitting Pattern
Looking for the crochet version of this pumpkin? Easiest Large Pumpkin Crochet Pattern
Easiest Large Pumpkin Knitting Pattern
Yarn: Lion Brand Wool-Ease Thick & Quick (1 skein [makes 2 pumpkins] of each color- pumpkin, butterscotch, spice)
Brown yarn in weight #4 for the stems
Needles: Size US 13, 16 inch circular knitting needles or Size US 13 Single point
Size US 8 Single point needles for the stem.
Guage: Not important for this pattern
Also needed: yarn needle with large eye, fiber fill
(Note: This pattern can be worked on either circular or single point needles)
Cast on 36 sts. Work in Knit 4, Purl 2 ribbing until piece measures approximately 11 inches. Break yarn, leaving a long tail.
To make the stem-
I made 2 different stems to give the pumpkins some variety. The taller stem size is in parenthesis.
With the Size 8 needles- cast on 18 (24 sts). Work in Stockinette stitch until piece measures 3 inches. Bind off on a right side row.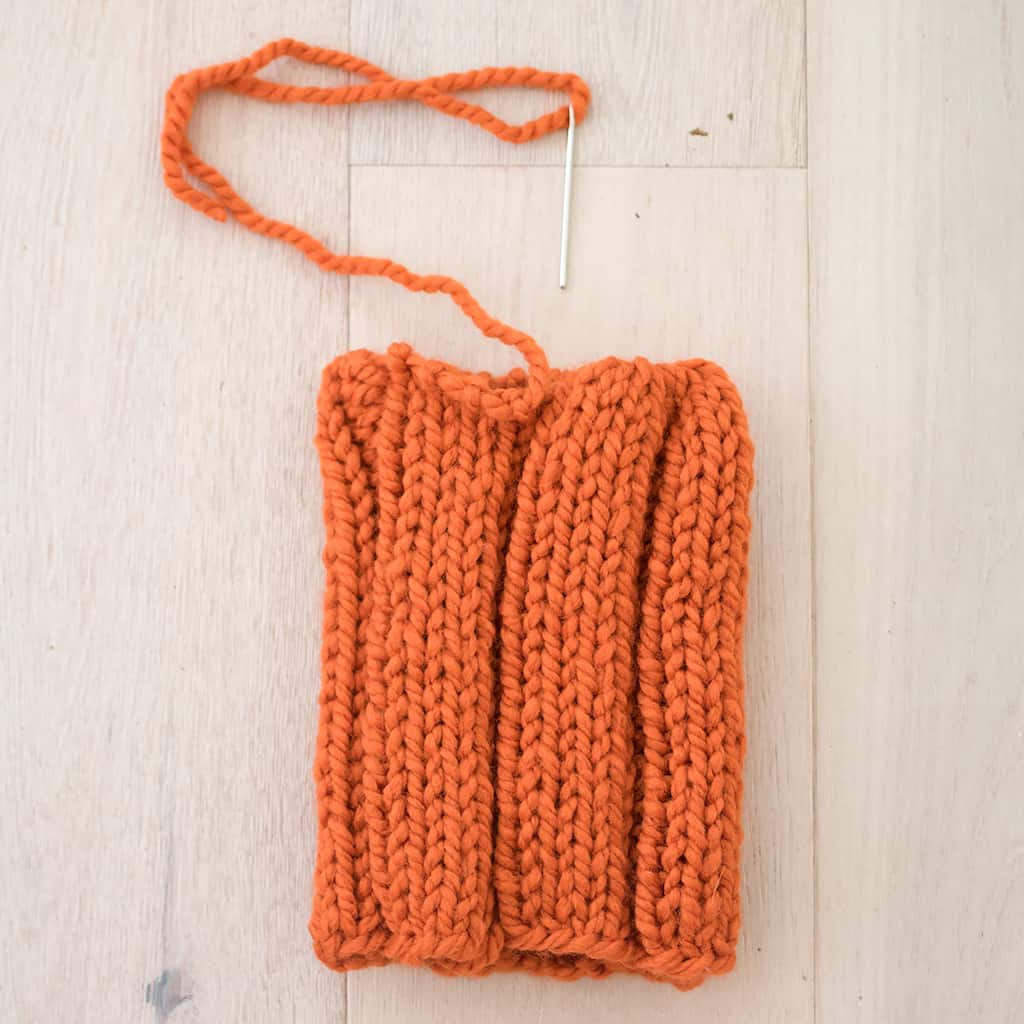 This is what the piece looks like when you are finished knitting.
The pattern is reversible so you can make 2 different types of pumpkins- ones with wide ridges and ones with narrow ridges.
If you're working on circular needles- using a yarn needle, insert the end of the yarn through the stitches on the needles on pull them off, creating a drawstring. Pull to tighten and knot. This will close off the bottom of the pumpkin.
If you are working on single point needles, bind off at 11 inches and break yarn leaving a long tail. Fold over width-wise and sew side seam. Thread the end of the yarn through the needles and make a slip stitch to gather the end (see 2 pics down for example). Pull to tighten and knot.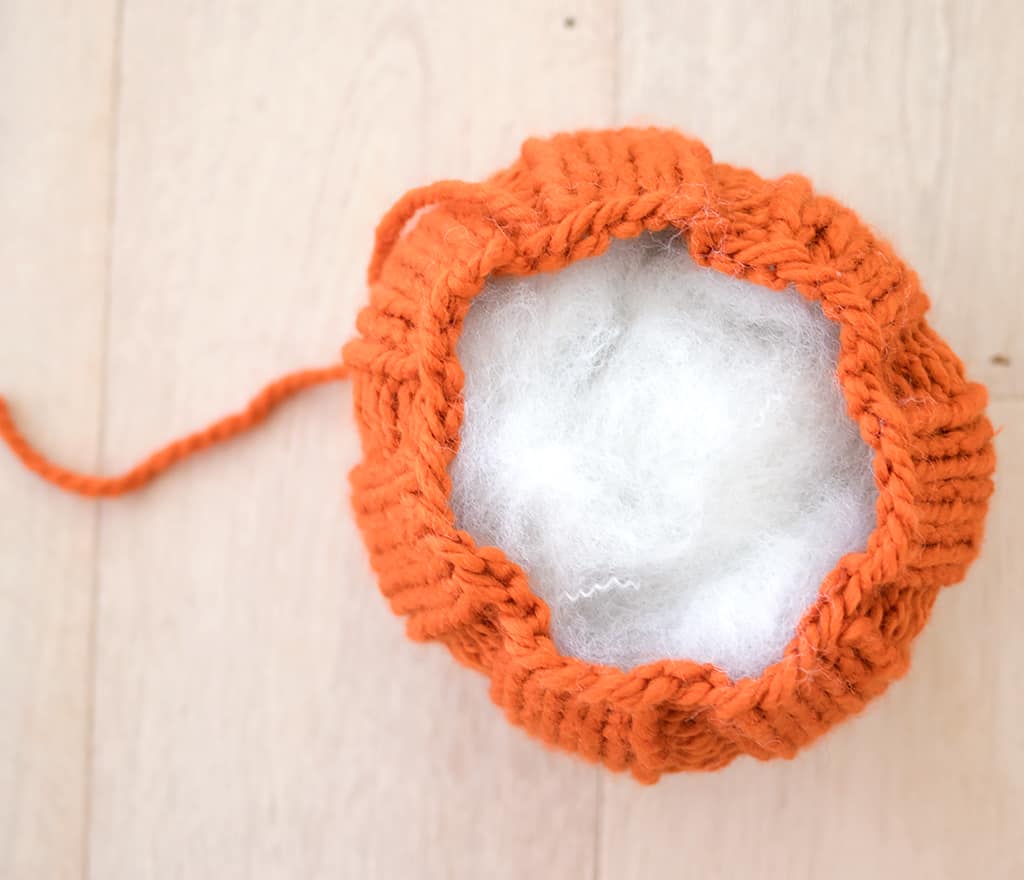 Stuff with fiber fill. You can create larger/ smaller pumpkins by adjusting the amount of stuffing.
Once the pumpkin is stuffed, sew the top closed using a slip stitch. Pull to tighten but do not knot.
This is what the pumpkin should look like. The stem will get pushed down into the opening.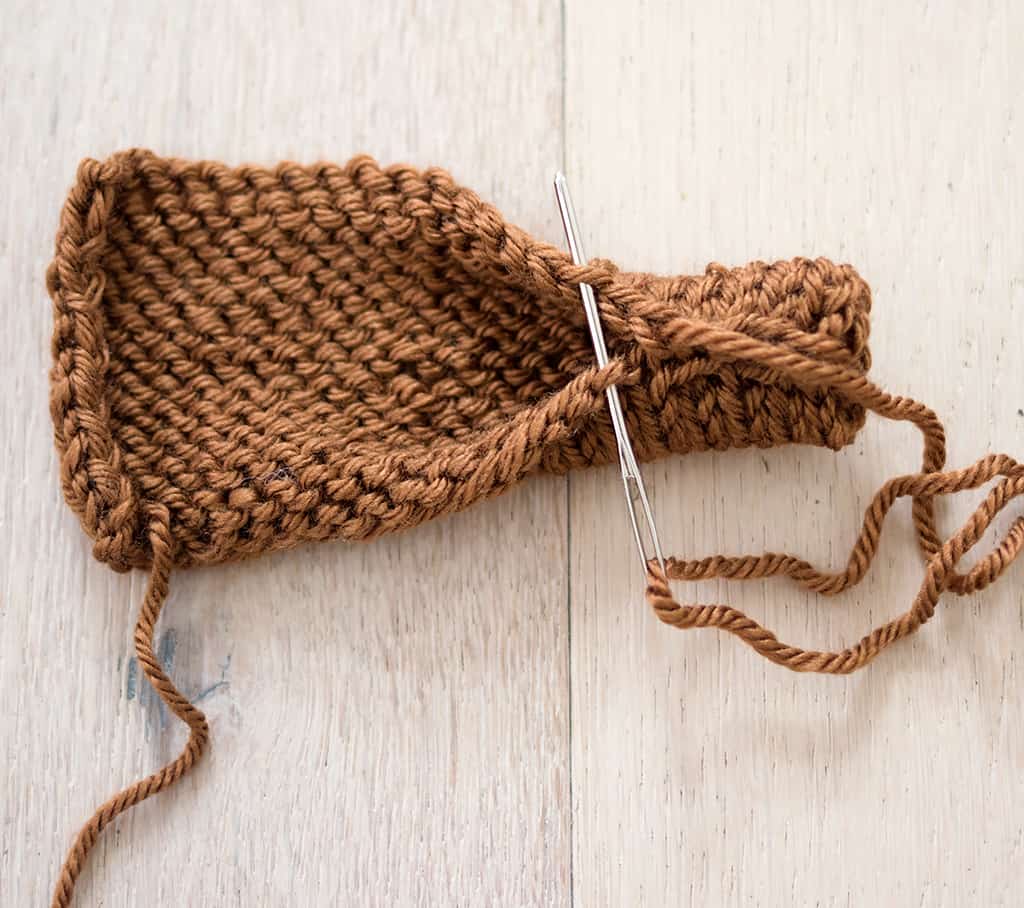 Take the stem, fold it over and sew the seam.
Stuff lightly.
Push the stem down approximately 1/2 inch into the pumpkin. Pull the drawstring tight and make a few stitches securing the stem to the pumpkin.
I hope you liked this Easiest Large Pumpkin Knitting Pattern! I love seeing your finished projects! If you enjoyed making this Easiest Large Crochet Pumpkin, I'd love to see yours on Instagram, just tag me @ginamicheleblog. Happy Halloween knitting!
Looking for more Fall Knitting Patterns?
Scrap Yarn Pumpkins Knitting Pattern
Kids Black Cat Hat Knitting Pattern
Kids Ghost Hat Knitting Pattern
Kids Colorwork Pumpkin Hat Knitting Pattern
I should mention that I put the knit pumpkins outdoors only for the photo. They're only meant for indoors =)
Keep in touch! For more inspirations, projects, and free knitting patterns, sign up for our weekly newsletter.
Looking for more Fall Craft Projects?
How to Make a Stenciled Doormat Without a Cricut Machine
How to Sew Fabric Pumpkins- Fast & Easy!
Scrap Yarn Pumpkin Knitting Pattern