How to Paint Fiberglass Doors
How to Paint Fiberglass Doors- easy tips to give your fiberglass doors a professional paint job!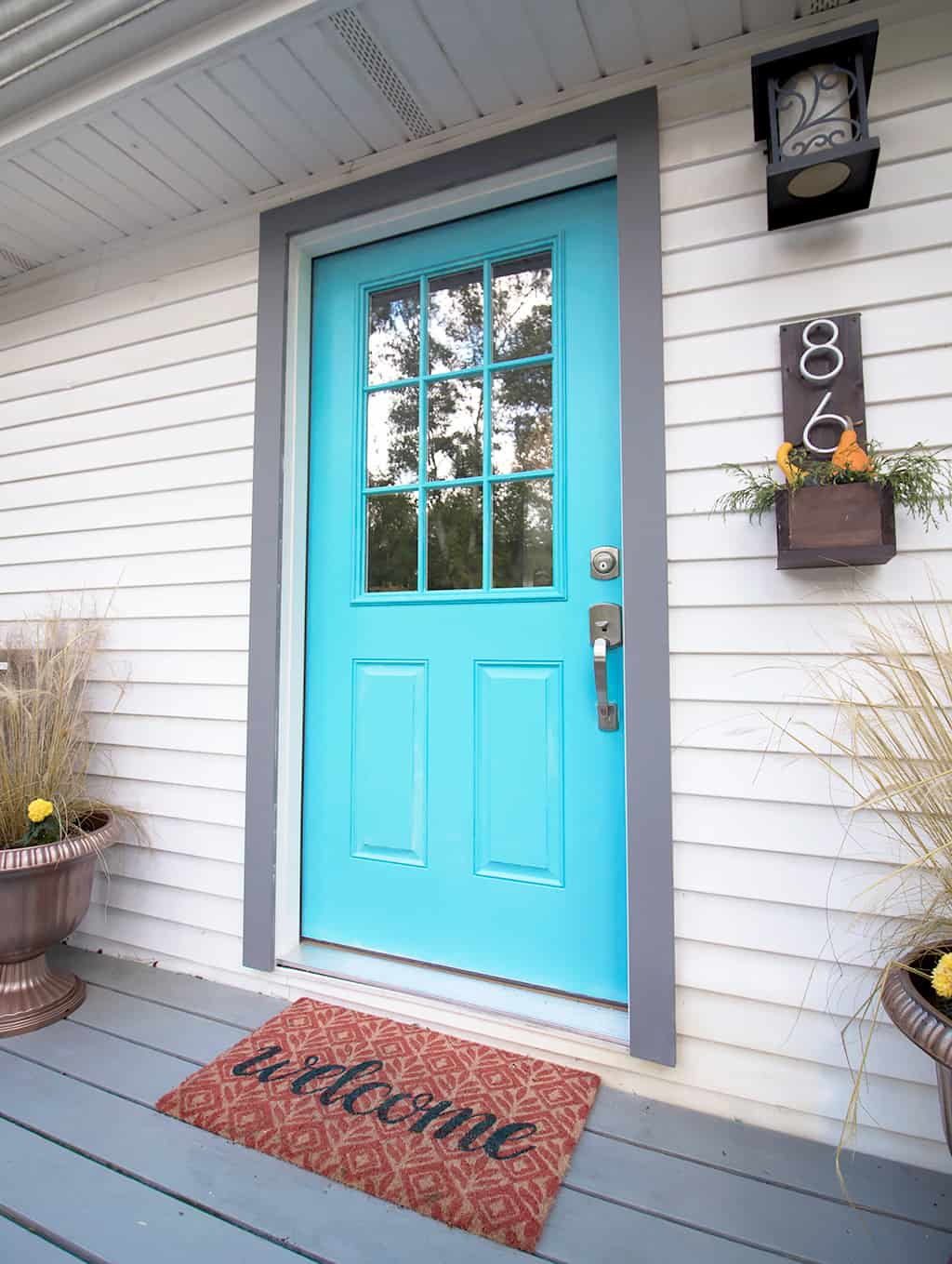 If you read my last DIY Home post you'll know that I was so excited to add some much-needed curb appeal to my house by replacing the tired, old front door. I had a hard time deciding which Therma-Tru Benchmark door I wanted (there are so many beautiful styles!). I knew I wanted a style with glass and one that was ready-to-paint so I chose this Therma-Tru Benchmark Ready to Paint Fiberglass Entry Door with Insulated Core. The traditional style with the 9-lite door fits in perfectly with the beachy vibe of my coastal town.
Therma-Tru Benchmark doors, sold exclusively at Lowe's, are constructed using fiberglass which makes them low-maintenance. Fiberglass doesn't rust, warp or split and it doesn't swell or shrink with temperature changes.
KEEP IN TOUCH! FOR MORE INSPIRATIONS, TUTORIALS, AND FREE KNITTING PATTERNS, SIGN UP FOR OUR WEEKLY NEWSLETTER:
As a reminder, here's my old door. Not only was this door bland and unwelcoming, but it was wasn't insulated properly so there was always cold air creeping in during the winter months. My new Therma-Tru Benchmark door is Energy Star® qualified with a polyurethane foam core – which delivers exceptional energy efficiency.
The Therma-Tru Benchmark doors consist of a complete door system including all necessary components; jambs, weatherstrip, sill and hinges in complementing finish colors. The doors are engineered to help ensure a precision fit for years of trouble-free performance. Replacing my old door with the new one was a breeze and it took less than an hour!
Next step was to paint!

Achieving a professional-quality paint job on this Therma-Tru Benchmark door was actually pretty simple! The ready-to-paint fiberglass doors feature a smooth surface (no sanding before painting like with wood doors) which makes for beautiful paint application.
Here are some tips for painting fiberglass doors:
Splurge on the high-quality brushes. Cheap brushes shed and spending a few more dollars on the professional ones makes this job a lot easier.
Wipe any debris and dust off the entire door. I used a sponge and dish soap. Remove the hardware (doorknob). Use Painter's tape around the windows. Carefully applying the tape around the windows was time-consuming, but it was worth it! It sped up the painting process and gave me crisp, flawless lines.
Use a primer. The Therma-Tru Benchmark Ready-to-Paint doors are unfinished, so they will need a primer. I used a latex primer.
Use exterior paint- no exceptions! Exterior paints are made to resist weathering, so it's essential that you use one to keep your door looking great for years to come. I used an acrylic paint with a narrow paintbrush for the area around the windows and a mini roller on the rest of the door. I applied 2 thin coats to the entire surface, making sure that the original coat was thoroughly dry before brushing on another.
Let the door dry overnight before removing the tape. It can be tempting to pull the tape off as soon as you're finished painted to see the final results, but it's best to wait to ensure the paint is completely dry.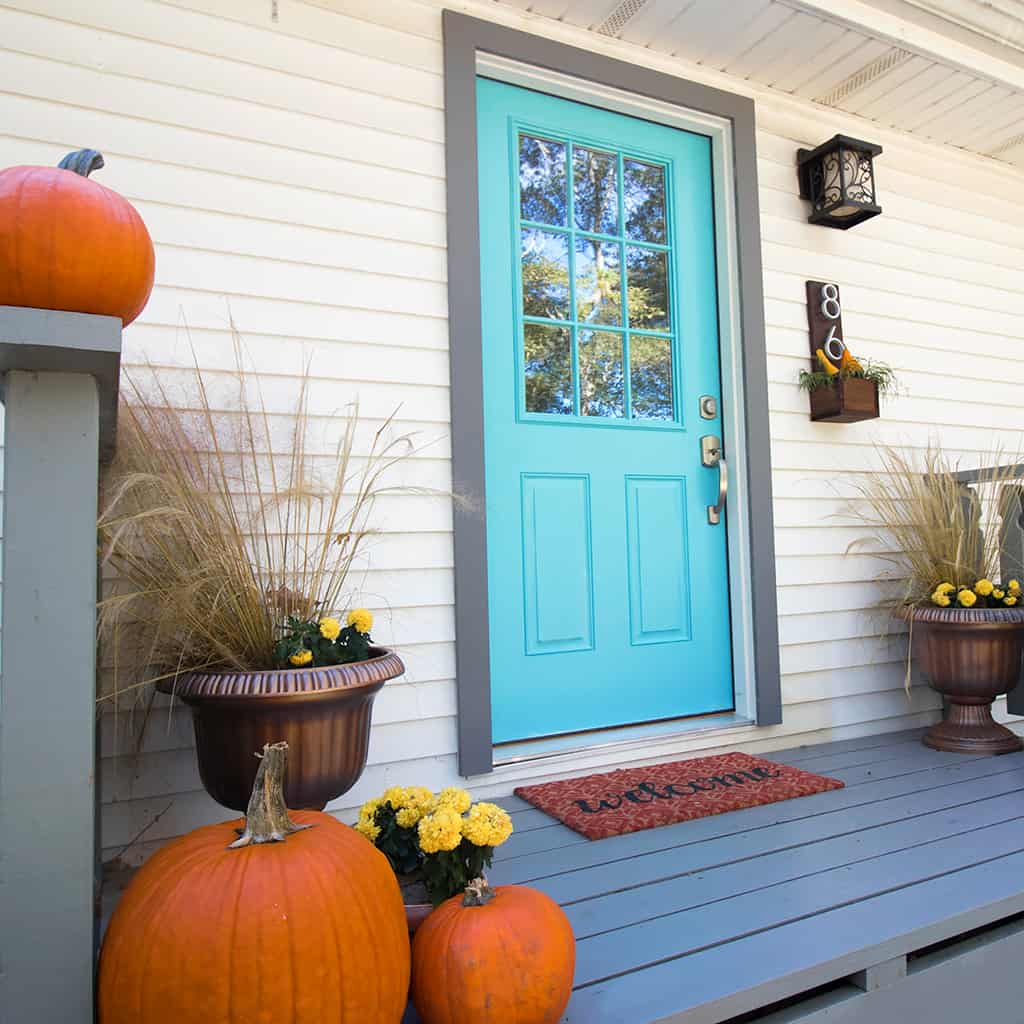 To complete the porch upgrade I also added molding around the front door, painted it charcoal grey to match the shutters, swapped out the door handle for a fancier version and added festive harvest decor…all purchased at Lowe's!
This weekend project totally transformed the front of my house! It looks so much more welcoming joyful now. Several of my neighbors stopped by to tell me that the porch looked great and they wanted new doors too!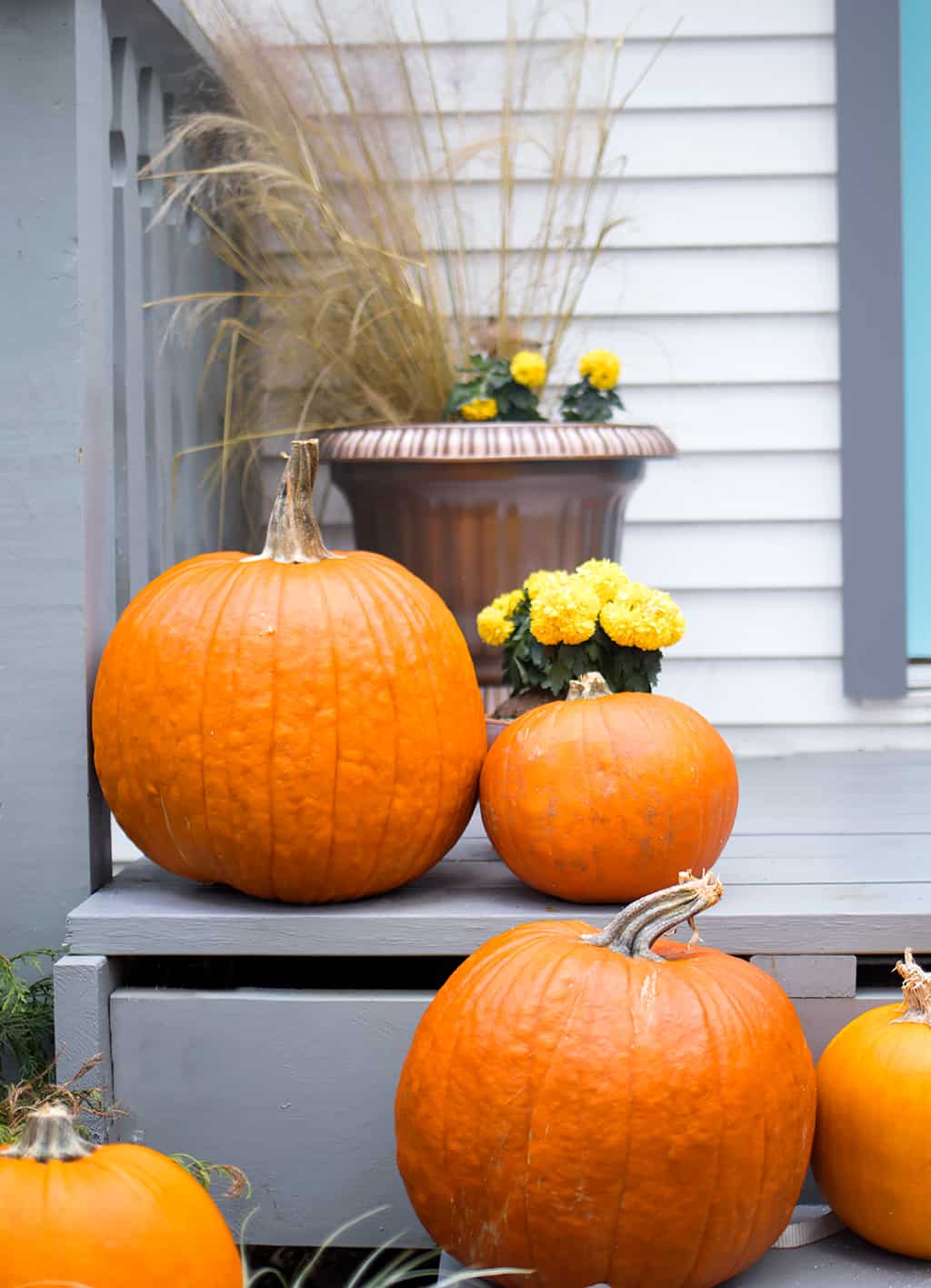 This is a sponsored post written by me on behalf of Therma-Tru Benchmark, available exclusively at Lowe's.
I love seeing your finished projects! If you enjoyed making this post "How to Paint Fiberglass Doors", or any of my other DIY projects, I'd love to see yours on Instagram, just tag me @ginamicheleblog. Happy DIYing!