Outdoor Chalkboard DIY- Weatherproof and Durable!
Outdoor Chalkboard DIY- Weatherproof and Durable! Your kids will love this giant outdoor chalkboard.
About a year ago I built Indigo this sandbox with a roof. I'm happy to report that he loves it and it held up beautifully through our NY winter. Indigo has really gotten into drawing lately so I thought a chalkboard would be a perfect addition to his outdoor play space. I attached this Outdoor Chalkboard DIY to the back of the sandbox, but it could just as easily be secured to a fence.
Many of the Outdoor Chalkboard DIYs I've seen use sheathing plywood and chalkboard paint. These materials aren't weatherproof and wouldn't last a season of rain/snow. Instead of plywood, I used a Hardie board. Hardie boards are cement board siding with a smooth finish and they're very durable! They're used as siding on houses because they're low-maintenance and long-lasting. At $12-$14 per board, they also make an affordable DIY chalkboard!
KEEP IN TOUCH! FOR MORE INSPIRATIONS, TUTORIALS, AND FREE KNITTING PATTERNS, SIGN UP FOR OUR WEEKLY NEWSLETTER:
As for the paint, the chalkboard paint that's sold in stores isn't intended for outdoor use. Luckily, black exterior flat latex paint has a flat sheen that closely mimics chalkboard paint. It's a very durable outdoor paint!
This Outdoor Chalkboard DIY can weather the elements for years of fun!
Supplies needed for Outdoor Chalkboard DIY
Pressure treated 2 x 4s
3 inch exterior screws
Exterior paint flat latex
Paint rollers
Want more Kid-Friendly DIY projects?
How to Build a Sandbox with a Roof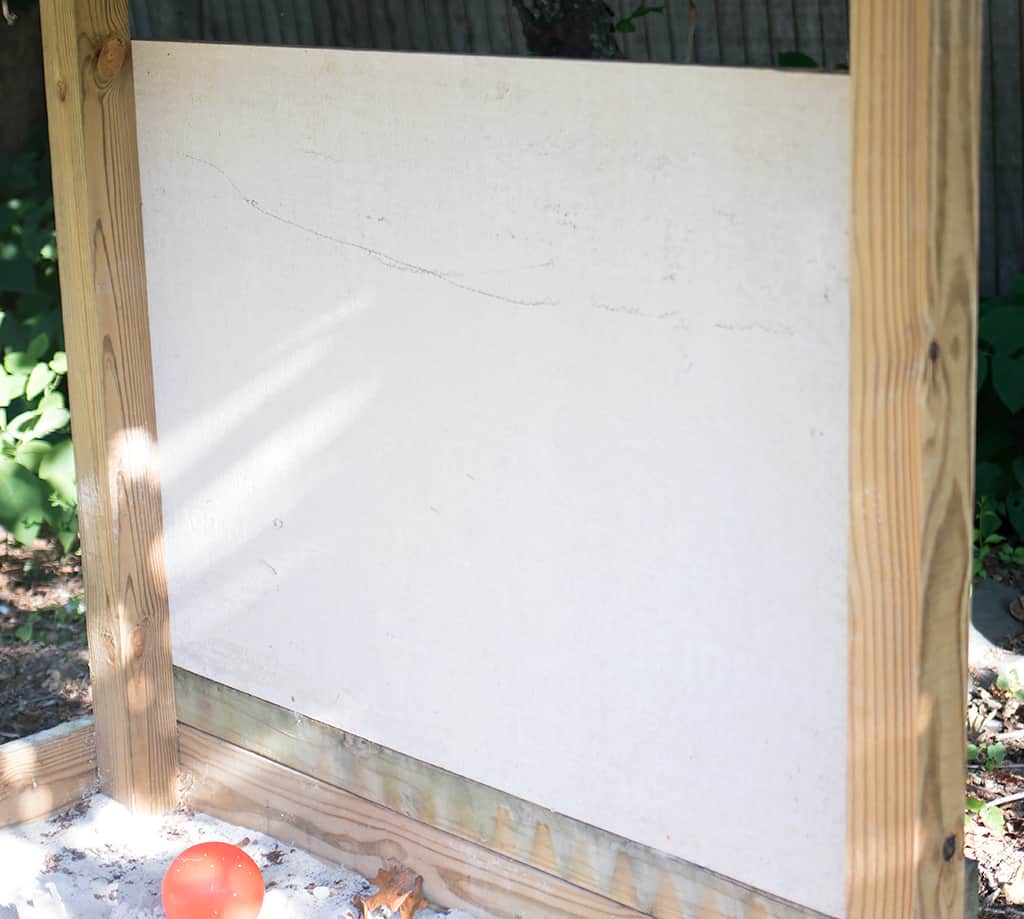 Tutorial:
I leaned the Hardie board up against the sandbox posts from the back. Then I cut 2 pressure treated 2 x 4s the length of the sandbox posts. I screwed the 2 x 4s into the top and the bottom of the Hardie board on the back side.
If you're attaching the chalkboard to a fence- use construction adhesive to adhere the board to the fence. Then, make a frame using the 2 x 4s. This will ensure that there are no visible screws through the chalkboard.
After the Hardie board was secured, I painted it with the latex paint. I also added a hook to hold the chalk bucket.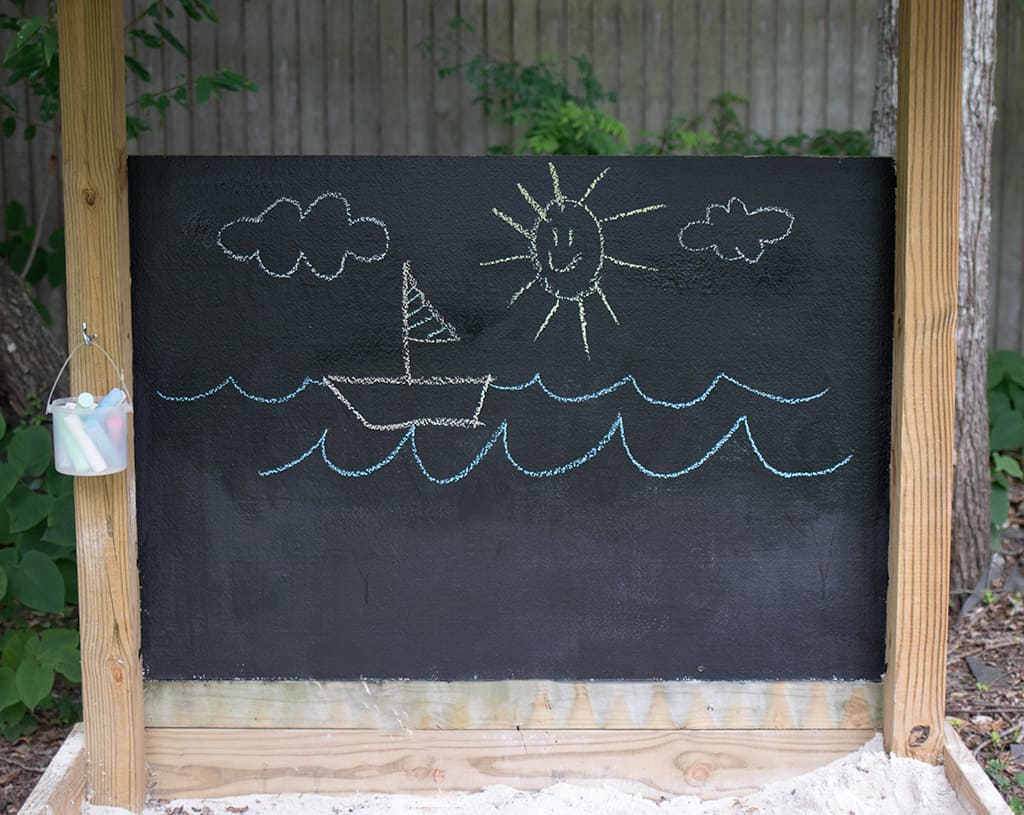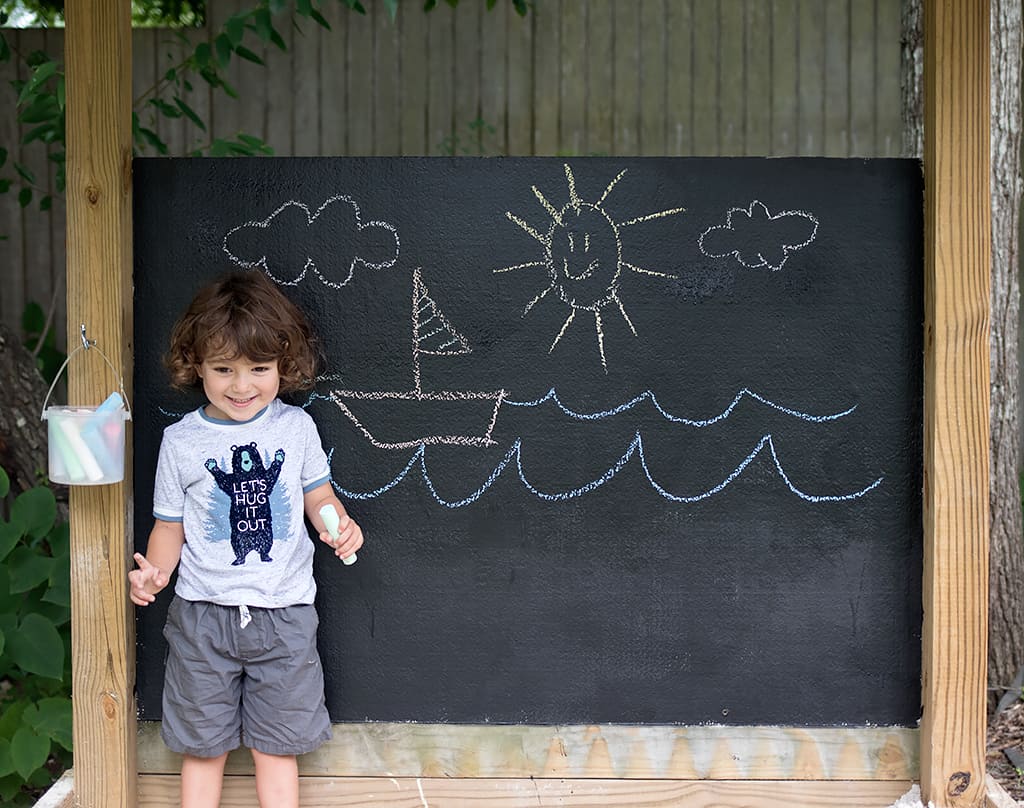 I love seeing your finished projects! If you enjoyed making this Outdoor Chalkboard DIY- Weatherproof and Durable, or any of my other projects, I'd love to see yours on Instagram, just tag me @ginamicheleblog. Happy DIYing!