My Patio Makeover with Lowe's!!!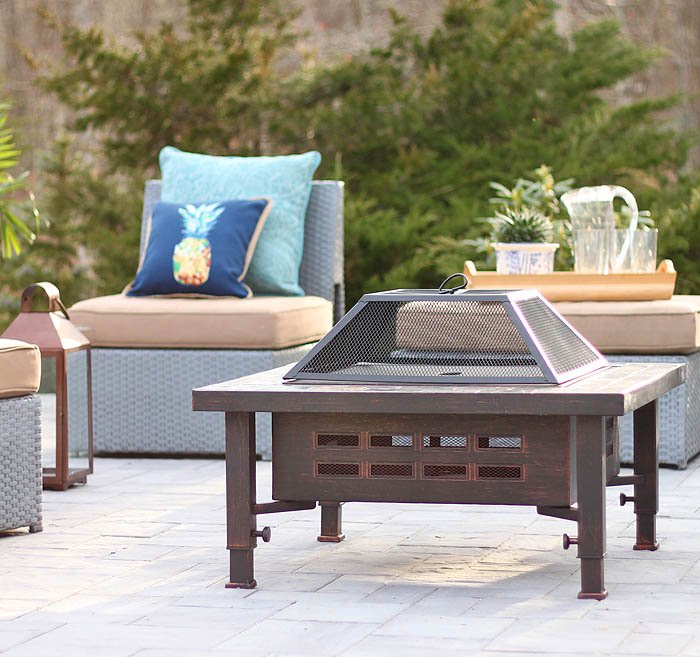 This post has been sponsored by Lowe's. All opinions are my own.
Hi friends, I'm so excited to share today's post with you! I teamed up with Lowe's to transform my outdoor space from blah to beautiful! Summer is all about entertaining so a great patio is essential. My dream was to have a backyard oasis where I could entertain family and friends. Instead I had this…
Not exactly a warm, welcoming spot! I had this patio put in last Fall. The furniture set is a hand-me-down from my mom. It's in good condition but I didn't love the color. This whole space looks drab and definitely not the backyard oasis I had in mind!
This space needed a focal point, color, greenery and fun accessories, so I headed to Lowe's!
Tips for Refreshing an Outdoor Space on a Budget
1. Paint: If you're working on a small budget, consider painting items you already own to give them a fresh new look. Several cans of spray paint was all it took to totally transform my patio set! I love the gray color and it compliments the stone so much better than the original brown. You don't have to limit yourself to furniture. You can also paint old flower pots and planters to match your new color scheme.
2. Color: Pillows are and easy and inexpensive way to inject color into your outdoor space. Limit your color palette to a few bright colors (I choose blue and green) this keeps the whole look cohesive.
3. Plants, Plants and More Plants! Plants add color, warmth and texture to an outdoor space. They also give you a lot of bang for your buck! Tip- houseplants look great in an outdoor space. Most of the plants in the pictures are from the houseplant department in Lowe's. While you're at it, don't forget flower pots that compliment your decor!
4. Fun Accessories: Accessories add another dimension to your patio. Think of them as the little finishing touches that add personality to your space. I chose the white garden stool with geometric cut outs and the copper lanterns.
5. Focal point: Entertaining spaces benefit from having a focal point. Indoors it's a fireplace. Outside, it's a fire pit! Lowe's has fire pits for every budget. Fire pits are perfect for entertaining. They also have the added bonus of turning your outdoor space into somewhere you'd like to spend time in the evening.
Here are some of the great items I purchased to refresh my patio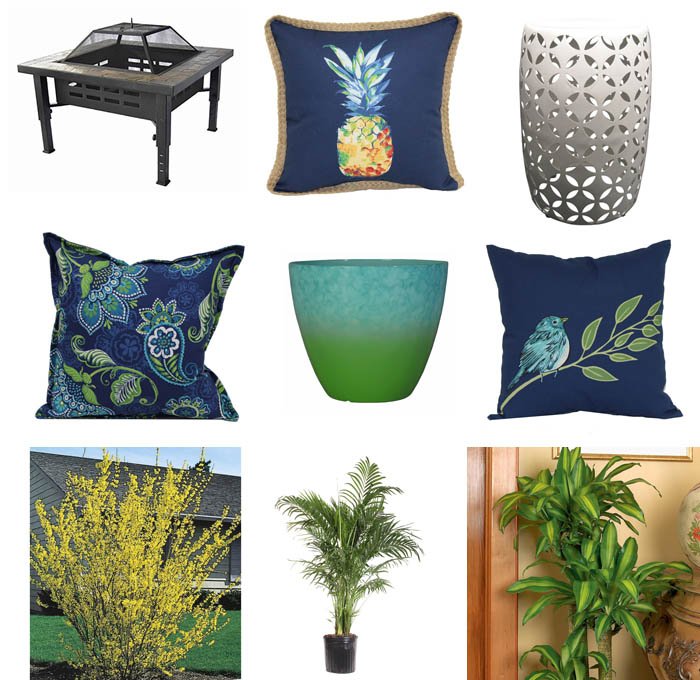 With one trip to Lowe's and a small budget I was able to get this beautiful backyard oasis! I can't wait to start entertaining here. Something tells me I'm going to be very popular this summer ?
Need more inspiration? Check out Lowe's Patio Guide.

This is a sponsored post written by me on behalf of Lowe's.