Cloud Dough DIY- the Perfect way to Beat Winter Boredom!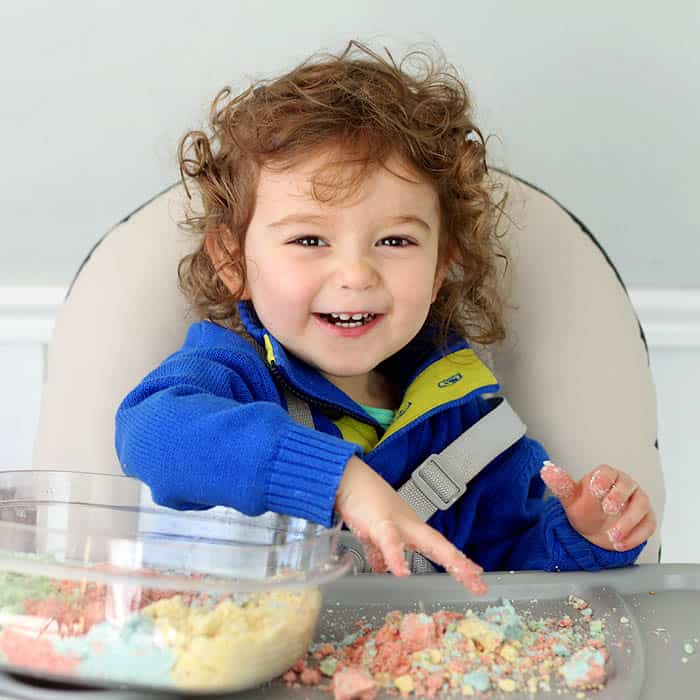 Today's post is sponsored by Vaseline® Intensive Care™ Essential Healing Lotion, all thoughts, words, and opinions are my own.

Winter in NY can be rough. Last week there was a huge snowstorm and now we're experiencing downpours and 50mph winds! Needless to say, Indigo and I have had to find our fun indoors. I've partnered with the Vaseline® Intensive Care™ Essential Healing Lotion team to share some of my winter skin survival tips as well as a fun DIY to keep your little ones occupied indoors.
Indigo and I both have sensitive skin that tends to be dry. The wind and cold outdoors combined with the dry, heat indoors wreaks havoc on our skin! Also, I'm constantly washing my hands during the day which dries them out even more. To combat dryness I apply Vaseline® Essential Healing lotion to myself and Indigo every day. Vaseline® Essential Healing leaves skin deeply moisturized and looking noticeably healthier.
Finding activities to do indoors with a toddler can be a challenge! This DIY Cloud Dough is my go-to toddler craft. It's perfect for sensory play and it keeps little ones busy and entertained. It's also easy to make, inexpensive and totally safe! Win, win, win! Cloud Dough has a light, crumbly texture and it's really fun to touch. I've got to admit, I play with it too =)
Supplies needed:
Flour
Vegetable oil
Food coloring (optional)
How to make: You'll need 1/2 cup of oil for every 4 cups of flour. Add a few drops of food coloring (optional) Thoroughly mix together. I use a spoon at first and then mix with my hands. You'll know it's ready when it's clumpy and maintains its shape when you squeeze it.
I know what you're thinking…"That looks very messy!" Cleaning up the Cloud Dough is actually easy. I either sweep or vacuum up any clumps that fall on the floor. Since there's oil in the mix, the Cloud Dough isn't "dusty" like regular flour, and as long as it doesn't get wet, the food coloring won't leave any trace behind.
After playtime I wash Indigo's and my hands and apply some Vaseline® Essential Healing lotion. Indigo loves rubbing the lotion on his hands. It's so cute!
Make a difference when you shop & buy one to help heal one
Each time you purchase Vaseline® lotion (or jelly) in the U.S. you help support Direct Relief through their "Buy One to Help Heal One" promotion. The Vaseline® Healing Project is a wonderful cause that donates dermatological care, Vaseline® Jelly & medical supplies to help people affected by poverty and emergencies. You can check out all the good they're doing across the world at The Vaseline® Healing Project.
All Vaseline® Intensive Care® lotions are available at Walmart and other food, drug and mass retailers nationwide, so be sure to pick up a bottle next time you're shopping!
Do you guys have any winter boredom busters? I'd love to hear them!
A big thank you to Vaseline® Intensive Care™ Essential Healing Lotion for sponsoring this post!