Crossover Booties Knitting Pattern – Now With Additional Sizes
Crossover Booties Knitting Pattern- the easiest baby booties pattern, now with sizes for 3, 6 and 9 months. Great project for beginners!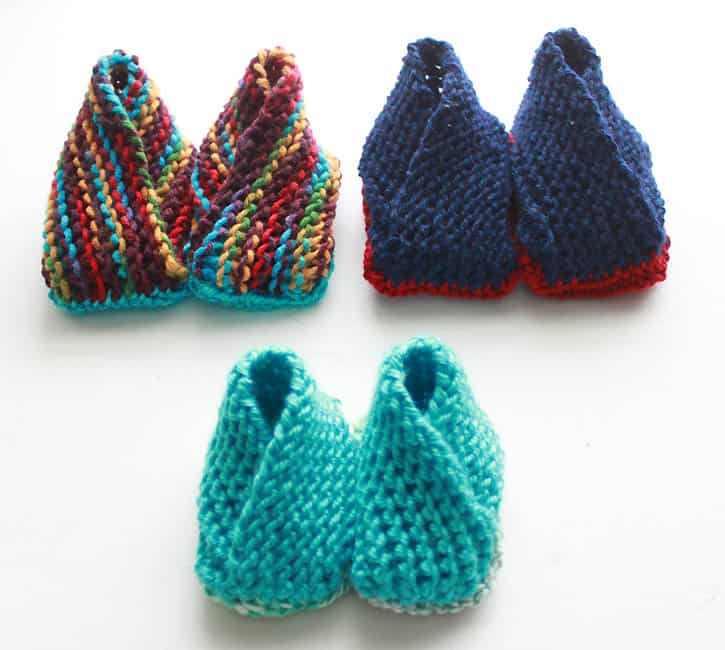 After posting this super-easy pattern for newborn booties I received a ton of requests for larger sizes. Here it is! These knit baby booties have new sizes including 3, 6, and 9 months. These booties make great baby shower gifts!
This simple pattern uses worsted weight yarn and size US 8 straight knitting needles.
I have included both written instructions and a video tutorial for this pattern.
KEEP IN TOUCH! FOR MORE INSPIRATION, TUTORIALS, AND FREE KNITTING PATTERNS, SIGN UP FOR OUR WEEKLY NEWSLETTER:
Crossover Booties Knitting Pattern
Yarn: any worsted weight yarn (#4 medium weight)
Needles: size US 8 knitting needles [Make 2]
For 3 Months (size 6 and 9 month are in parenthesis)
Cast on 30 (34, 38) stitches. Work in Garter Stitch for 12 (14, 15) rows. Bind off 11 (12, 13) stitches at the beginning of the next row. Finish row. Bind off 11 (12, 13) stitches at the beginning of the next row- this leaves you with 8 (10, 12) stitches in the middle. Garter Stitch remaining stitches for 22 (24, 26) rows. Bind off.
[Update: Many readers asked for an adult version of this bootie- here is the pattern]
How to finish the booties
Here is the finished piece. It looks like the letter "T". The upper part will become the back and side of the bootie. The thinner, bottom part will be the sole (footbed).
Take one side of the upper part of the t shape pattern and place it on top of the footbed.
Take the other side of the "T" and place it on top of the 2 layers. Using a yarn needle, sew the bootie together at the toe and the sides. Turn inside out when finished.
Looking for more Baby Booties Knitting Patterns like these basic booties?
Easy Cuffed Baby Booties Knitting Pattern
Easiest baby Booties Ever Knitting Pattern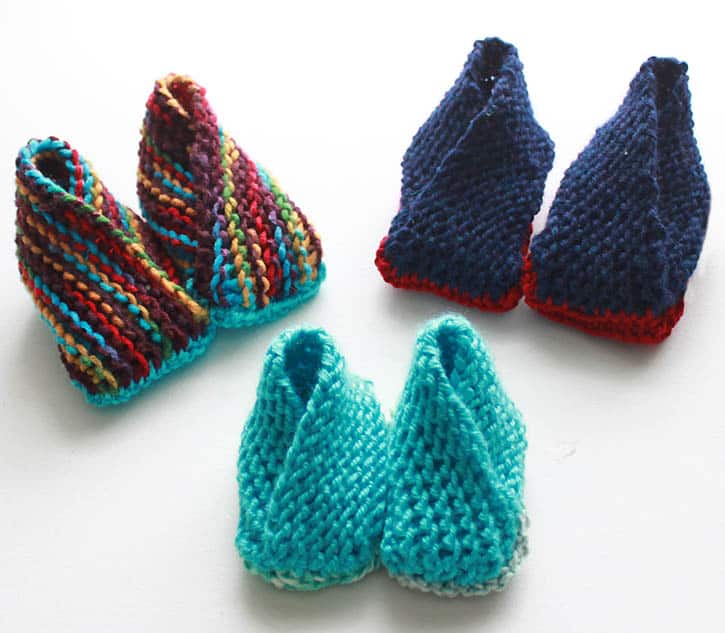 I love seeing your finished projects! If you enjoyed making any of these knit baby booties pattern or any of my other free patterns I'd love to see yours on Instagram, just tag me @ginamicheleblog. Happy knitting!