How to Knit Christmas Trees the Easy Way
How to Knit Christmas Trees the Easy Way- a flat knit pattern for decorative Christmas trees. Perfect for ornaments, garland or as gift toppers!
These little knit Christmas trees are the perfect addition to your Christmas décor! They're knit in Garter Stitch and the shape is created by knitting two stitches together at the sides. This pattern is ideal for beginners.
Each tree consists of a front and a back. They are sewn together at the sides. Then they're stuffed with fiberfill and the seams are sewn closed. Below is a video tutorial and the written pattern.
How to Knit Christmas Trees the Easy Way
Yarn: Red Heart Soft in Dark Leaf (also, a small amount of #4 weight brown yarn for the trunk)
Needles: Size US 8 single point knitting needles
Also needed: Fiberfill, yarn needle
Gauge: not necessary for this project
Size: Approximately 6 inches from the top of the tree to the bottom of the trunk
(Make 2)
Cast on 20 sts.
Row 1: Knit across.
Row 2: Knit across.
Row 3: k2tog, k to last 2 sts, k2tog.
Row 4: Knit across.
Row 5: Knit across.
Row 6: Knit across.
Repeat rows 3-6 until 4 stitches remain.
Next row: k2tog twice (2 sts)
Knit 2 together. Make a loop and pull the yarn through.
For the trunk:
Count 6 sts in from the end of the tree at the bottom. Pick up and knit 7 sts in the middle using the brown yarn. Work in garter stitch for 5 rows. Bind off.
Finishing:
Place the trees onto each other and sew them together at the sides. Stuff with fiber fill and sew the bottom and trunk seam closed.
Keep in touch!
For more inspirations, projects, and free knitting patterns, sign up for our weekly newsletter.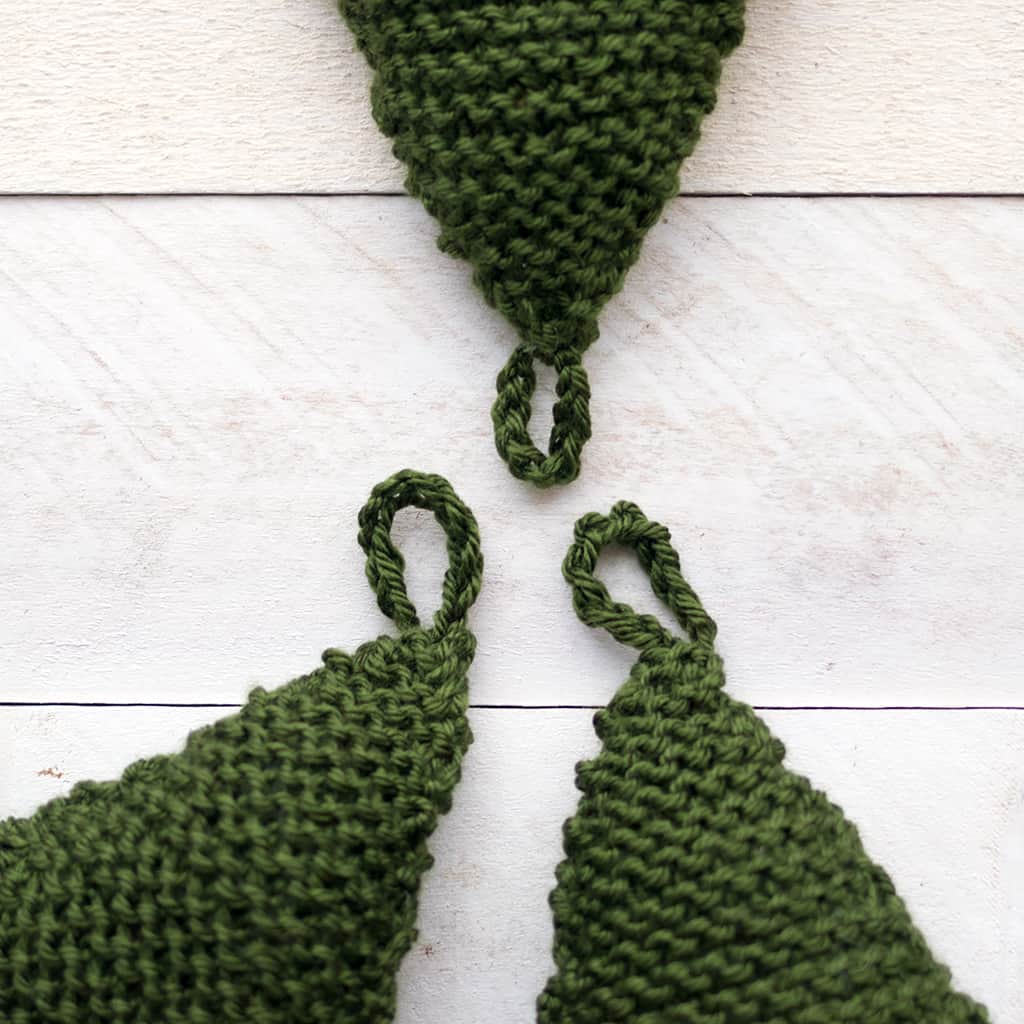 You can attach a loop made of yarn to the top or crochet one (mine is a chain of 11).
Looking for more Christmas Knitting Patterns?
Family Christmas Hat Knitting Pattern
How to Knit Easy Mini Christmas Stockings
Easy Christmas Tree Knitting Pattern
I love seeing your finished projects! If you enjoyed making this post- How to Knit Christmas Trees the Easy Way, I'd love to see yours on Instagram, just tag me @ginamicheleblog. Happy holiday knitting!