Easter wouldn't be complete with a cute, little bunny! This One Square Knit Bunny is so easy to make, anyone can do it! The body is make from a knit square and the ears are attached separately. The bunny gets it's shape from some cleverly placed seams.
This knit bunny would be the perfect addition to a kid's Easter basket- Happy knitting!
Want more Free Easter Knitting Patterns?
Baby Bunny Hat Knitting Pattern
Easter Chick Basket Knitting Pattern
Yarn: Lion Brand Wool- Ease Thick & Quick (Grey Marble)
Needles: Size US 13 single point
Other supplies: Yarn needle, fiber fill ,Pom Pom maker
Gauge: not important
One Square Knit Bunny
Cast on 24 sts. Work in Stockinette stitch until piece measures 12 inches. Bind off.
To make the ears:
(Make 2)
Cast on 6 sts. Working in Stockinette Stitch, knit 2 rows.
3rd row: Knit 2 together at the beginning of the row.
4th row: Purl 2 together at the beginning of the row.
Repeat 3rd and 4th row until 1 stitch remains. Cut yarn, pull through loop and pull to tighten.
How to assemble the bunny
Stitch a semi-circle at the bottom of the piece. It should be approximately 6 stitches in from the sides and approximately 12 stitches high. (I used red yarn so it would show up in the picture, but you should use a matching yarn)
Pull the yarn so the semi-circle closes up. Stuff with fiber fill and pull tightly closed and make a knot. Stitch the open part of the head closed.
Each of the 4 corners will be sewn together to form a leg. Bring the sides together at the corners and sew.
Leave an opening to stuff with fiber fill. Stuff and sew the hole closed.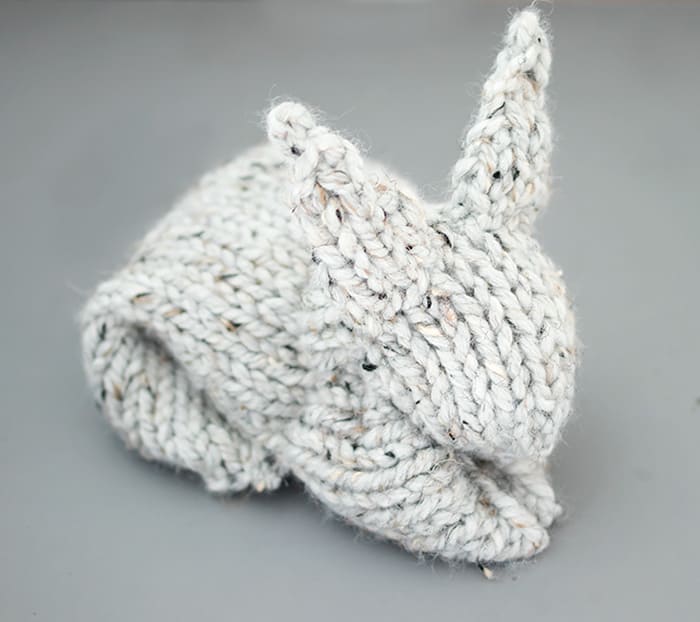 Sew on the ears.
Stitch on the eyes and nose. Make and attach pom pom.