Leftover Yarn Scarf Free Crochet Pattern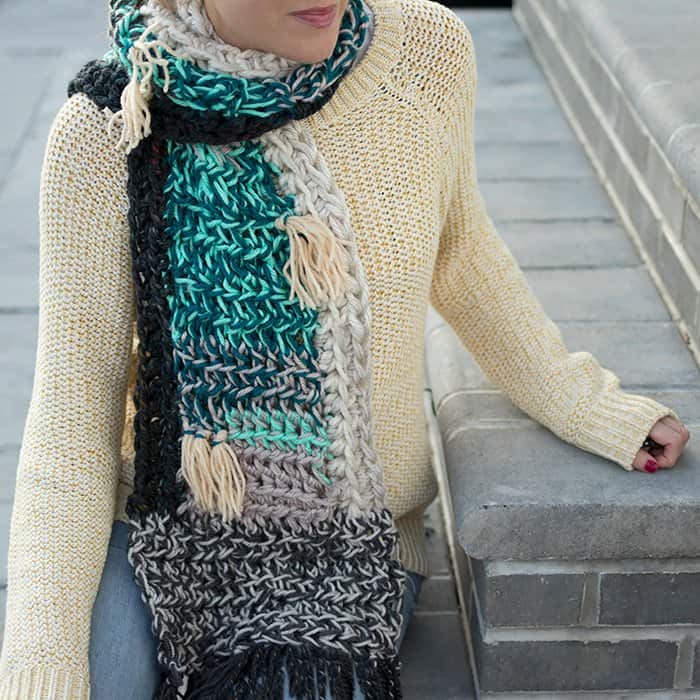 I'm in full-on spring cleaning mode over here. Every nook and cranny is getting tidied which means…I can't ignore my over-flowing pile of yarn any longer! I'm sure many of you are in the same boat, so I'm going to dedicate my next few knitting and crochet patterns to scrap busting. Today I'm going to kick off the series with this Leftover Yarn Scarf crochet pattern!
My leftover yarn is a bunch of different weights, so I wanted to create a pattern that would work with worsted, bulky and super bulky yarn. This scarf starts with a middle panel and then crochet boarders are added on the sides. Lastly, top and bottom panels are added. I knotted on fringe and smaller tassels to give it an Anthropologie-vibe.
Leftover Yarn Scarf Crochet Pattern
(this scarf is worked in different sections- middle panel, side panels and top & bottom panels)
For the middle panel:
(use 2 strands of worsted weight yarn at the same time)
Chain 12. HDC across. HDC each row until piece measures 50 inches.
For the side panels:
On each side of the middle panel, Crochet 2 HDC rows along the long side of the scarf.
For the top & bottom panels:
(use 2 strands of worsted weight yarn at the same time)
HDC across sides and middle panel. Work for 6 inches.
Finishing:
Weave in ends. For the fringe: cut 5 strands of yarn 12 inches long. Loop through stitch and pull to tighten to make tassel. Repeat across row. For the smaller tassels: cut 4 strands of yarn 8 inches long.