EASY Kids Sweater Free Knitting Pattern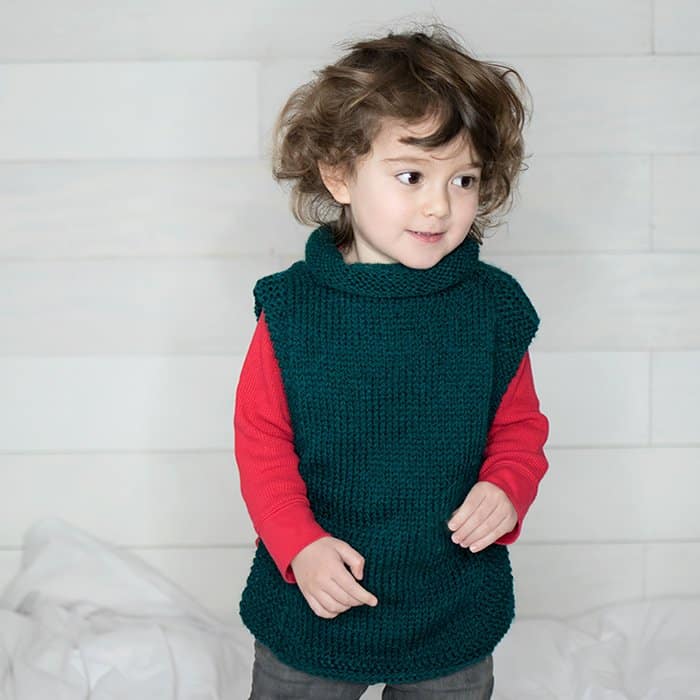 Knitting a sweater is often a labor of love. They usually take forever to make and the patterns are rarely beginner-friendly. Not this one! This Easy Kids Sweater knitting pattern knits up fast and there's very little seaming (I know some of you are not a fan of seaming ?). It's open on the sides and secured with 2 buttons. It's knit in Stockinette stitch with a Garter stitch border.
This was my first time using Lion Brand Touch of Alpaca and I loved it! It's soft, not too heavy and it comes in a bunch of beautiful colors. I'll definitely use it again for future patterns. I want to knit something for myself with it!
Want more Free Knitting Patterns?
1 Hour Kids Hat Knitting Pattern
Kids Pumpkin Hat Knitting Pattern
Yarn: Lion Brand Bonus Bundle Touch of Alpaca (Jade)
Needle: Size US 8 single point
Size US 8 circular, 16 inch
Gauge: 2 inches= 8 sts
Easy Kids Sweater Knitting Pattern
(This pattern can be adjusted to fit any kid's size. Measure the length [from top of shoulder to hem] and the width of your child's sweater. Take the width measurement and multiply it by 4. For example- the width of my son's sweater was 12 inches so I cast on 48 sts.)
For size 2T:
Front
Cast on 48 sts. Knit 5 rows in Garter stitch.
The border is knit in Garter stitch and the main part of the sweater is knit in Stockinette stitch. Knit 8 rows at the beginning and the end of each row in Garter stitch. Knit until piece is desired length (mine was 16 inches). Bind off on a right side row.
Back:
Repeat the steps for the Front. Once the piece measures 5 1/2 inches from the cast on edge make the button holes.
On a right side row-
Row 1: Knit 2, Bind off 3, Knit 3, knit to last 8 stitches, Knit 3, Bind off 3, Knit 2.
Row 2: Knit 2, Cast on 3, Knit 3, Purl to last 8 sts, Knit 3, Cast on 3, Knit 2.
Continue working in Garter/Stockinette pattern until piece measures the same length as the front. Bind off on a right side row.
Line up front and back pieces. Sew a 3 inch seam at the shoulder (from the outer edge)
For the turtleneck:
With the circular needles, pick up and knit the stitches around the collar. Knit in the round until the collar measures 5 inches. Bind off loosely.
Sew buttons to side. Weave in ends.