Seed Stitch Hat Knitting Pattern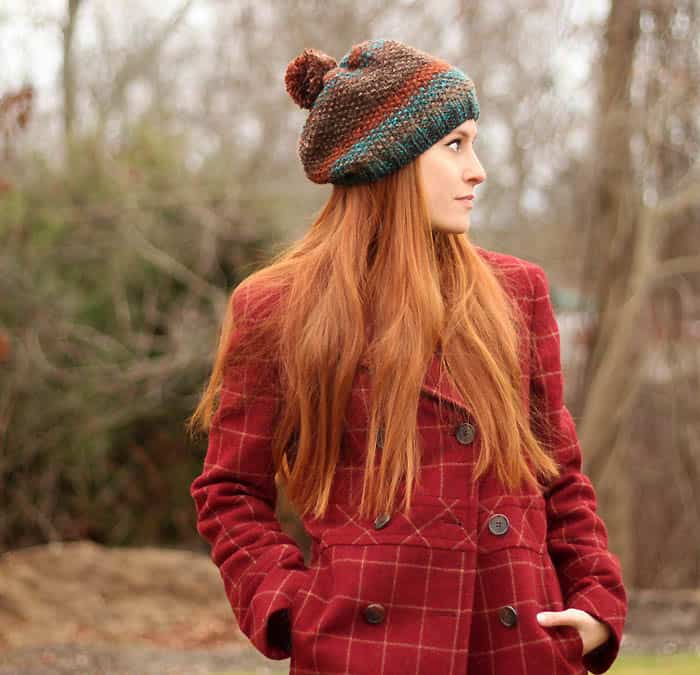 This Seed Stitch Hat Knitting Pattern is perfect for beginners who want to move beyond Stockinette and rib stitches. You knit one stitch and then purling the next to create the Seed Stitch. The next row you reverse the order (knit in the purl stitches) . It's a really easy design to achieve and it creates a pretty pebbled texture. I chose to knit this hat using Loops & Threads Barcelona yarn in Mocha (which I can't find online but I purchased it in my local Michaels). It's a bulky weight yarn with a self striping pattern in rich browns with a touch of turquoise.
     This hat is designed to be slouchy, but if you want it to sit on the top of you head than you can reduce the length. I hope you guys like the pattern & happy knitting!
Want more free beginner hat knitting patterns?
  Scroll down for the pattern or click below to buy the ad-free, printable version for a small fee. The printable version is an instant download that conveniently prints on 1 page.
Yarn: Loops & Threads Barcelona in Mocha
Needles: Size US 7 circular 16 inch,  size 7 double pointed needles
Seed Stitch Hat Knitting Pattern
Cast on 76 sts with the circular needles. Join yarn together being careful not to twist it. Place a marker. Work in K2, P2 ribbing for 2 inches. K1, P1 until last st, purl front and back of last st. You should now have 77 sts on your needle.
Next round: P1, K1
Next round: K1, P1
Repeat last two rounds until hat measures 7 1/2 inches from the cast on edge.
Decrease:
Round 1: p3tog, k1. Repeat all the way around and purl the last stitch.
Round 2: P1, K1, repeating until end of round
Repeat these two rounds until only a few stitches remain, switching to double point needles when necessary.
When you are left with a few stitches, break yarn and thread through. Weave in ends. Make an attach pom pom (check out my Perfect Pom Pom tutorial)