Stash Busting Cowl Knitting Pattern
Stash Busting Cowl Knitting Pattern- turn your leftover yarn into this colorful & cozy cowl!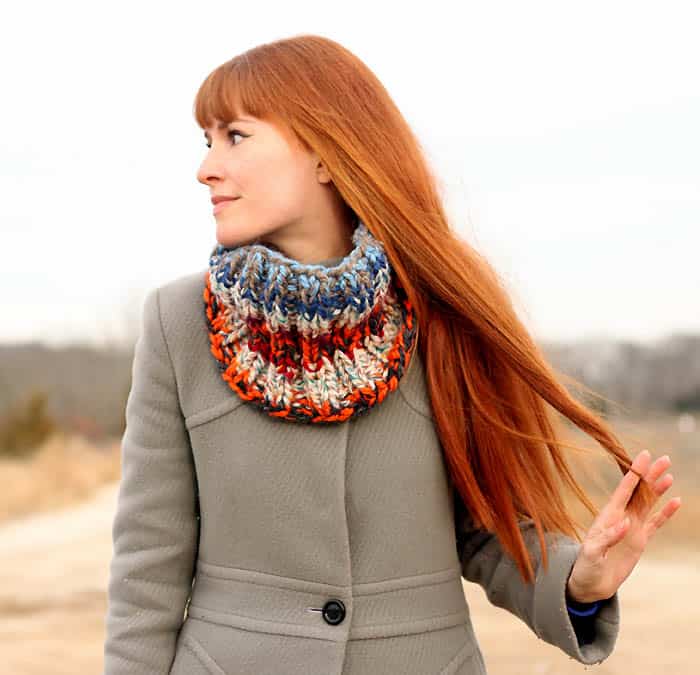 The leftover yarn bin- every knitter has one. Yarn keeps accumulating in it and you're never quite sure what to make with the leftover bits. One of my plans for the new year is to tackle my giant bin of leftover yarn. I've been working on some Stash Busting Knitting Patterns that I'll feature in the upcoming weeks.
Hopefully, you guys will find them helpful in decreasing your yarn stash!
This Stash Busting Cowl Knitting Pattern is a great way to use up your super bulky yarn. This is made by knitting 2 strands at the same time. I love the pretty and unique pattern that's created by switching up the different colors of yarn. Since this cowl is double knit, it's extra plush and warm!
Stash Busting Cowl Knitting Pattern
Yarn: Lion Brand Wool-Ease Thick & Quick
Needles: Size US 13 circular, 16 inch
Using 2 different color strands at once, cast on 48 sts. Work in K2, P2 ribbing for 8 inches. Bind off loosely in ribbing.
More of my Easy Cowl Knitting Patterns: