Fox Tea Cosy Knitting Pattern
This shop and post – Fox Tea Cosy Knitting Pattern has been compensated by Collective Bias, Inc. and its advertiser. All opinions are mine alone. #TeaProudly #CollectiveBias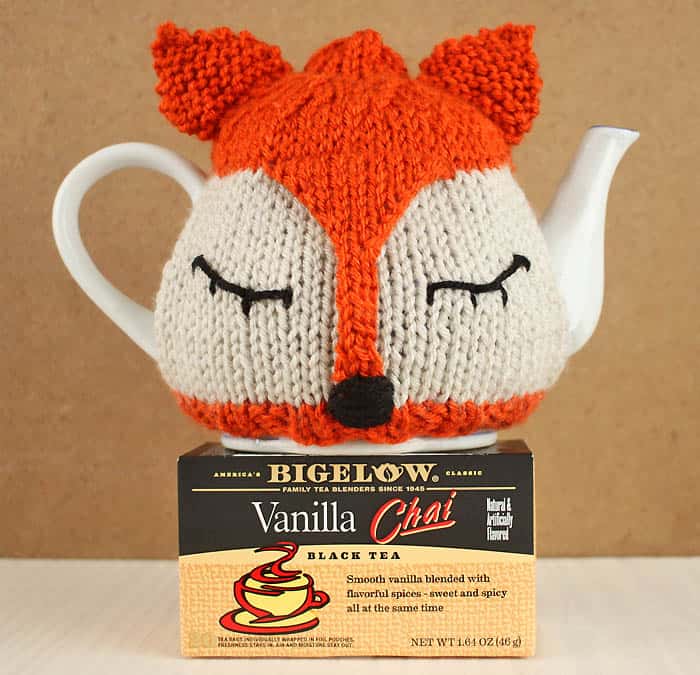 January is Hot Tea Month and I'm so excited to be partnering with Bigelow Tea! My mother and grandmother would always have afternoon tea when I was growing up. It's a tradition that I continue to this day. Every afternoon, while Indigo is taking a nap, I make a cup of tea (Bigelow's Vanilla Chai is my favorite) and just spend 15 minutes relaxing. No email. No phone. In our fast paced world, it's so great to take some time each day to unplug and relax with a cup of tea. It's a little self care ritual I practice every day and I urge you to try it too!
About Bigelow Tea
Bigelow Tea is a family owned company, spanning 3 generations. All their tea is made in the USA and foil packed for freshness. Bigelow only uses the highest quality ingredients so you know you can Tea Proudly when you're drinking Bigelow!
Fox Tea Cosy Knitting Pattern

In honor of Hot Tea Month, I created this Fox Tea Cosy Knitting Pattern! The colors on Bigelow Tea's Vanilla Chai box instantly made me think of a fox. I love the way this turned out and it makes me smile every time I see my tea kettle. I can Tea Proudly and so does my Foxy tea kettle!
I kept this knitting pattern as beginner-friendly as possible. The front and back are knit separately and then joined together using double pointed needles. The tea cozy is split at the sides to allow for the handle and spout as well as easy on/off access. The ears, eyes and nose are all sewn on afterwards.
(Note- my tea kettle measures 7 inches high – including lid and 7 1/2 inches wide . This pattern works best on a rounded tea kettle of similar size)
Yarn: Vanna's Choice in Terracotta and in Linen
Needles: Size 7 straight, Size 7 Double Pointed
For the front of the cosy:
Cast on 28 sts using the straight needles. Work in K2, P2 ribbing for 1 inch. Switch to linen yarn and work in Stockinette Stitch for 4 inches. Place stitches on a holder.
For the back of the cosy:
Cast on 28 sts using the straight needles. Work in K2, P2 ribbing for 1 inch. Switch to Stockinette Stitch and work until piece measures 5 inches from the cast on edge.
Shaping:
Divide the stitches among 4 double pointed needles so there's 14 sts on each. Place a marker. With the orange yarn work in Stockinette Stitch for 1 inch. Knit 2, knit 2 together across round. Knit next round. Knit 2, knit 2 together across round. Knit 2 rounds. Keep working until piece covers the top of your kettle lid. Knit 2 together across row until you are left with a handful of stitches. Work them in stockinette stitch for 1 inch (this cover the knobs on top of the lid). Break yarn, thread through remaining stitches and pull to tighten.
For the snout:
Using the double pointed needle, pick up 12 sts on the first orange row above the linen. There will be 8 stitches left on either side. Knit 1 row. Working in Stockinette stitch, decrease 1 stitch at every side until there are 3 stitches. Work until piece measures 4 inches from where you picked up the stitches. Bind off.
For the ears (make 2):
Using the double point needles, pick up 10 stitches on the side of the top. Knit 5 rows. Decrease 1 stitch every row until you are left with 1 stitch. Pull yarn through stitch to secure.
Finishing: Sew the bottom of the cozy together on the sides of the ribbing. Using a yarn needle and black worsted weight yarn, embroider on the eyes. Attach the strip for the snout at the bottom by embroidering on the nose. Weave in ends.
Wait, there's more!
Want to start the New Year off right with an Ultimate Relaxation Getaway and Free Bigelow Tea for a year??? Enter below for your chance to win. Good luck my friends!!!
Check out your local Walmart to purchase Bigelow Tea in soothing, delicious favors like Constant Comment, Cozy Chamomile and Mint Medley. Bigelow Tea is located down the tea and hot cereal aisle. Join me and share how you #TeaProudly with Bigelow Tea
Thanks for reading Fox Tea Cosy Knitting Pattern!