Easiest Toddler Slippers Knitting Pattern
One of my most popular blog posts of all time is my Newborn Foldover Booties Knitting Pattern. My little guy has long since outgrown his, so I decided to make a toddler version of the pattern. This pattern is perfect for beginner knitters. They're no double pointed needles, heel shaping or any of that complicated stuff!
This Easiest Toddler Slippers Knitting Pattern is knit flat and then sewn together. The foldover design prevents the slippers from falling off of active feet. These would make a great gift for the little ones in your life!
I posted a tutorial recently showing how to make your own non-slip soles for knitted slippers. I added them to these slippers and they work great! I hope you enjoy the pattern!
Yarn: Loops & Threads 1st Kiss (1 skein)
Needles: Size 8 US Straight
Size: 1 1/2- 2 years (finished footbed measures approximately 4 1/2 inches)
Easiest Toddler Slippers Knitting Pattern
(Make 2)
Cast on 36 sts. Work in Garter Stitch for 14 rows. At the beginning of the 15th row, bind off 14 sts (22 sts) . At the beginning of the 16th row, bind of 14 sts- this leaves 8 sts in the middle for a footbed. Knit until the footbed measures 4 1/2 inches. Bind off.
(PS- I'm working on converting this pattern into sizes for larger kids. I'll post it as soon as I'm finished! In the meantime, here's the Women's Slippers knitting pattern, and Baby Bootie Knitting Pattern)
How to assemble the toddler slippers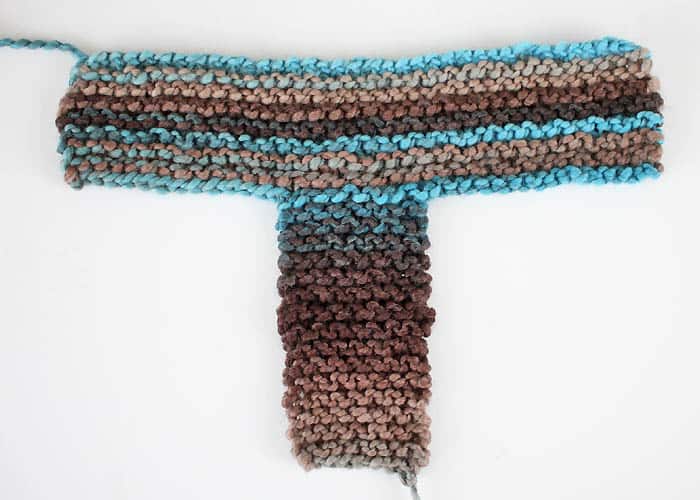 Once you are finishing knitting you have this piece that's shaped like a "T". The long horizontal part in the back makes the sides of the slipper and the back of the heel. The shorter part of the "T" makes the footbed.
Take one side of the upper "T" and fold it over on to the footbed. Sew together at the bottom.
Place the other side on top and sew together at the toes
Sew the upper part of the bootie to the footbed at the side.
Sew the other side
For the other slipper, reverse the order in which you place the sides on top of the footbed. This will the front of the slipper will crossover in opposite directions.