Toddler Legwarmers Free Knitting Pattern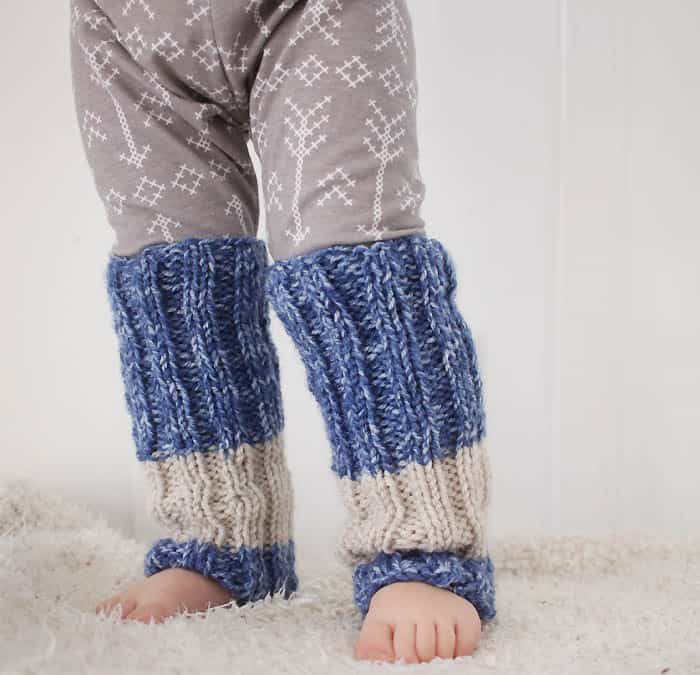 How cute are little kids in legwarmers? I just love it!!! They're perfect for hanging out indoors if your house is on the chilly side (like mine)
I created a Baby Legwarmers Knitting Pattern awhile ago and I wanted to do an updated version and in a larger size. This update knitting pattern is made on double point needles so there's no seaming. This is a quick and easy knit and you could even switch the colors up and use scrap yarn.
Want more free knitting patterns?
Scroll down for the pattern or click below to buy the ad-free, printable version for a small fee. The printable version is an instant download that conveniently prints on 1 page.
Yarn: Vanna's Choice in Denim and in Linen
Needles: Size US 7 double point
Free Knitting Pattern
(Make 2)
With the blue yarn, cast on 36 sts and divide them evenly on 3 double point needles. Join together. Work in K2, P2 ribbing for 5 inches. Switch to linen yarn and work for an additional 3 inches. Switch back to blue yarn , knit until legwarmer measures 10 inches from the cast on edge. Bind off in ribbing