Child Woodland Hood [knitting pattern]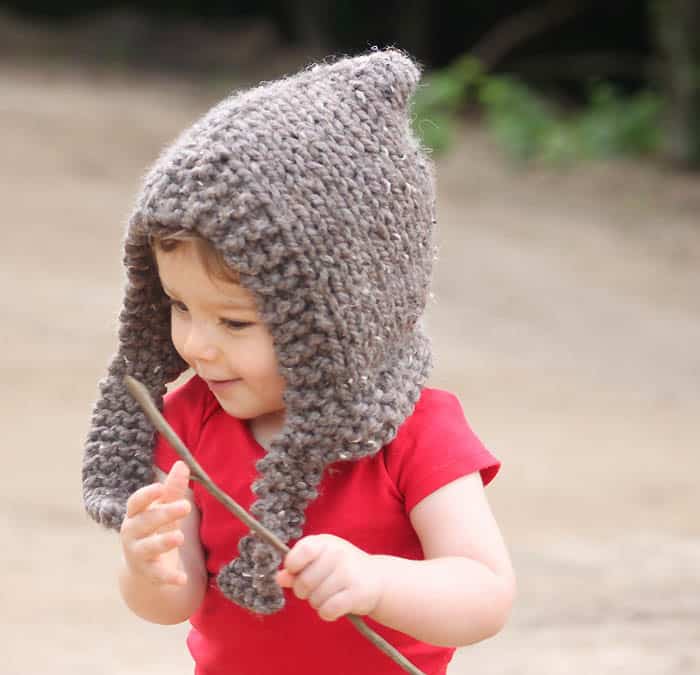 This hood is so easy to knit…if you can knit a scarf you can make this! I used one of my favorite go-to yarns (Wool-Ease Thick & Quick). It knits up so fast and it's really easy to work with. It's also very warm which will be perfect once the cold weather comes.
Want more Free Kids Knitting Patterns?
Scroll down for the pattern or click below to buy the ad-free, printable version for a small fee. The printable version is an instant download that conveniently prints the pattern and full instructions for finishing.
Yarn: Lion Brand Wool-Ease Thick & Quick in Barley (1 skein)
Needles: Size US 13 straight needles
Yarn needle
Sizes XS (age 1-2 years), S (3-4 years), M (4-5 years), L (6-7 years)
Knitting Pattern
(Note- hood is knit flat and then the seam is sewn closed at the top)
Cast on 32 (34,36,38,40) sts.
Knit 3 rows.
Row 4: Purl 3, knit to last 3 stitches, Purl the last 3 stitches.
Row 5: Purl
Repeat rows 4 and 5 until piece measures 9 (9 1/4, 9 1/2, 9 3/4, 10) inches. Bind off.
This is what the hood looks like when you are finished knitting the pattern. The 3 rows you knitted at the beginning will go around the neck and the Purl 3 part will go around the face.
Fold the piece in half longways, right sides together.
Using a yarn needle sew the seam closed where you binded off. Turn the hood right side out.
Pick up 4 sts at the front of the hood and Garter Stitch for 6 inches. Bind off and weave in end of yarn. Repeat on the other side.
Follow
(function(d, s, id) {var js, fjs = d.getElementsByTagName(s)[0];if (d.getElementById(id)) return;js = d.createElement(s);js.id = id;js.src = "https://widget.bloglovin.com/assets/widget/loader.js";fjs.parentNode.insertBefore(js, fjs);}(document, "script", "bloglovin-sdk"))
amzn_assoc_placement = "adunit0";
amzn_assoc_search_bar = "true";
amzn_assoc_tracking_id = "croche085-20";
amzn_assoc_ad_mode = "manual";
amzn_assoc_ad_type = "smart";
amzn_assoc_marketplace = "amazon";
amzn_assoc_region = "US";
amzn_assoc_title = "My Amazon Picks";
amzn_assoc_asins = "B00FMYYE92,B007LZB5AG,B003D7UF5W,B00KY41VBE,B01BQMURZI";
amzn_assoc_linkid = "4d1a40b275bb4d574ccbf53778a055b4";
!function(doc,s,id){ var e, p, cb; if(!doc.getElementById(id)) { e = doc.createElement(s); e.id = id; cb = new Date().getTime().toString(); p = '//shopsensewidget.shopstyle.com/widget-script.js?cb=1470920616931?cb=' + cb; e.src = p; doc.body.appendChild(e); } if(typeof window.ss_shopsense === 'object'){ if(doc.readyState === 'complete'){ window.ss_shopsense.init(); } } }(document, 'script', 'shopsensewidget-script');