This post was sponsored by Lowe's as part of an Influencer Activation for Influence Central and all opinions expressed in my post are my own.
Hi friends-I'm so excited to share today's post with you! The fall marks the start of a really creative time of year, which of course, I love! Decorating for the holidays is one of my favorite traditions. Attractive decor really adds to the curb appeal and it makes guest feel welcome. Naturally, I was thrilled to get the opportunity to work with
Lowe's
to create a Fall Decor DIY!
Pumpkin Topiaries make a great focal point for the front porch. The pre-made ones are usually pricey, but the good news is, they're easy to DIY! I purchased all the supplies for this DIY (as well as the beautiful front door sprays, garland and accessories) at Lowe's.
You can find the full collection of
Lowe's Harvest Decorations here
.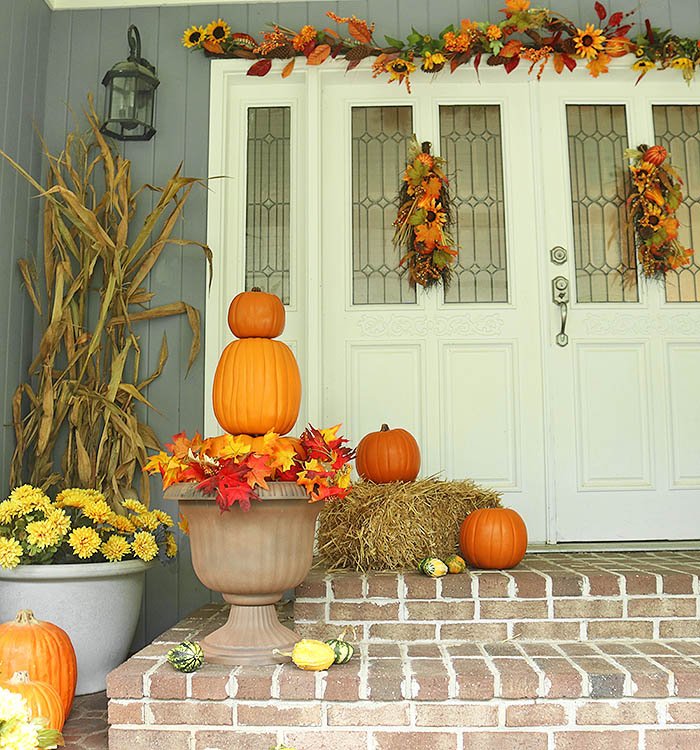 The picture above is a Shoppable Image. Click any of the links to see the products.
The urns I used for this DIY were originally black (pictured below) The price was unbelievable and the quality is great! I never tried this Rust-oleum textured spray paint before. It's great!!! It really makes the pot look like it's made of stone. I also like the way this color complimented the brick.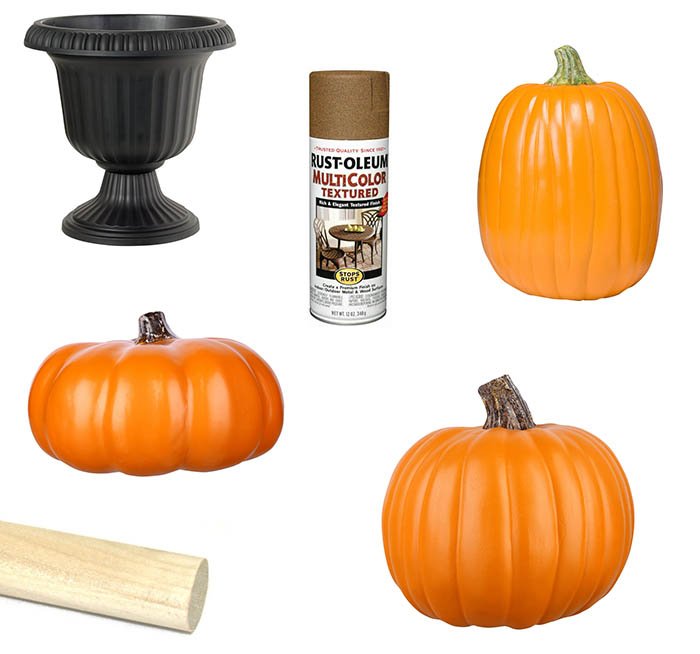 Above are all the supplies I used for the DIY Pumpkin Topiaries. You'll also need a drill with a large bit and a knife. The first step if to cover the urn with the textured spray paint. I gave the urn two coats.
To begin, cut off the stem of the short pumpkin. The stem is solid foam (not hallow) so this makes it easier to drill.
Using a large drill bit, drill through the top of the pumpkin. I made a few holes side by side to accommodate the dowel.
Flip the pumpkin over and drill a few holes side by side (to form 1 large hole) in the bottom.
Push the dowel through the pumpkin.
Repeat the steps with the tall pumpkin.
For the smaller pumpkin that sits on top, you'll need to cut a larger hole in the bottom so it will fit over the stem of the tall pumpkin. To do this I used a combination of the the drill to start the hole and then a knife. Please be careful with the knife and steady the pumpkin on a flat surface while you cut.
Add dirt to the urn and stick the dowel in. Add some artificial (or even real!) leaves around the base of the topiary to hide any dirt that might be showing. One of the great things about this DIY is that the pumpkin topiary can be removed after Thanksgiving and the urn can stay out all year!