5 Basic Knitting Stitches for Beginners
5 Basic Knitting Stitches for Beginners- new to knitting? Grab your needles and upgrade your knitting projects with these 5 stitches!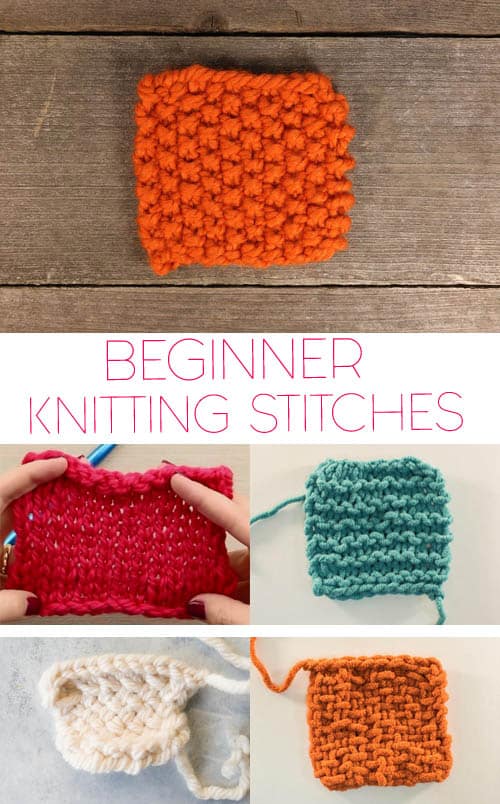 Hi everyone! It's Kathryn from AllFreeKnitting.com. Gina was gracious enough to let me talk about one of my favorite topics with you today – 5 Basic Knitting Stitches for Beginners.
Whether you're a beginner knitter or a veteran, having a firm grasp on these five easy knitting stitches is so important. A mastery of these stitches will truly expand your horizons and provide you with the ability to work up a wide variety of beautiful patterns you may have never thought possible.
Learning how to knit can seem like an overwhelming process once you think about all the yarn and patterns at your disposal. However, once you have some easy, basic stitches under your belt like the ones explained below, you'll be knitting like a pro in no time.
These different knitting stitches can be used for pillows, hats, throws, and many other projects.
KEEP IN TOUCH! FOR MORE INSPIRATIONS, PROJECTS, AND FREE KNITTING PATTERNS, SIGN UP FOR OUR WEEKLY NEWSLETTER:
And now, without further ado, check out 5 Basic Knitting Stitches for Beginners:

Garter Stitch
Garter stitch is one of the easiest and most common stitch patterns in knitted fabrics. You create garter stitch by either knitting or purling every row. This stitch features horizontal ridges formed by the tops of the knitted loops on every other row. Since the stitch is reversible and lies flat, garter stitch is ideal for scarves, bags, blankets, washcloths, and so much more.
Handy tip: If you're new to garter stitch, be sure to count the number of stitches after each row. Otherwise, you might realize you've accidentally created new stitches.
For a helpful video tutorial on how to knit the garter stitch, click here.
Stockinette Stitch
Stockinette stitch is another wonderful basic knitting stitch. To knit stockinette stitch, you alternate a knit row with a purl row. Stockinette stitch, also referred to as stocking stitch, can be found in just about any knitted garment you can think of – scarves, sweaters, blankets, hats, socks, etc.
Keep in mind stockinette stitch has a right and wrong side (although either side can be the "right" side depending on the individual pattern). The right side is typically the smooth side and features small stitches versus the bumpy side which is called reverse stockinette or purl. Stockinette fabric also curls on the edges. The horizontal edges curl toward the front or smooth side.
For a helpful video tutorial on how to knit the stockinette stitch, click here.
Seed Stitch
Seed stitch gets its name from the texture of the knitted fabric, because the little purl bumps look like scattered seeds. Seed stitch consists of single knits and purls that alternate both horizontally and vertically.
Seed stitch is slightly more complicated than garter and stockinette stitch, but the interesting texture is featured in many beginner knitting patterns. Similar to garter stitch, seed stitch lies flat and the knitted fabric looks the same from both sides. This stitch is ideal for a sweater border or cuffs, as well as scarves and other garments of which both sides are visible.
For a helpful video tutorial on how to knit the seed stitch, click here.
Basketweave Stitch
Basketweave stitch is a great stitch for beginner knitters, because it looks complicated but is actually very easy to create. As you can see from the photo below, basketweave stitch gets its name for obvious reasons. The combination of knit and purl stitches looks like the woven exterior of a basket, with the purl stitches "weaving" in and out of the stockinette background. This stitch is great for afghans, heavy weight sweaters, scarves, and potholders.
For a helpful video tutorial on how to knit the basketweave stitch, click here.
Linen Stitch
The linen stitch, sometimes referred to as the fabric stitch, is a slipped stitch knitting pattern which creates a dense and finely detailed stitch. Once complete, the fabric will look almost woven. The linen stitch is ideal if you're interested in making a warmer garment or if you're using a stiffer fabric that does not curl.
In the linen stitch, you slip every other stitch and knit (or purl) every other stitch. At the same time, you carry the yarn in front of the slipped knit stitch on the right side of the work or behind the slipped purl stitch on the wrong side of the work.
The linen stitch is an ingenious stitch pattern that can result in different looks simply by changing the color scheme. The stitch also looks great in variegated and self-striping yarns.
For a helpful video tutorial on how to knit the linen stitch, click here.
So there you have it! These 5 Basic Knitting Stitches for Beginners are all great ways to expand your knitting skill set and work with fiber in new and exciting ways. The possibilities are endless once you have a firm grasp on some of the most basic knit stitches.
Now that you have a few new stitches to try out, why not learn about the best knitting tools for beginners? Be sure to check out Beginning Knitting Supplies: The Ultimate Knitting Tools List. This comprehensive guide will ensure you start knitting with the proper materials at your disposal.